This Fintech Is on Track to Oust Commerzbank From German DAX
(Bloomberg) -- Wirecard AG, the fintech company that's worth more than Deutsche Bank AG, edged closer to joining Germany's blue chip DAX index after raising its earnings forecast for the second time this year.
Wirecard jumped as much as 9.6 percent in Frankfurt after saying it now sees earnings before interest, taxes, depreciation and amortization of as much as 560 million euros ($637 million) this year, compared with an earlier prediction of 545 million euros.
The raised outlook shows Wirecard's business is "firing on all cylinders," Robin Brass, an analyst at Hauck & Aufhaeuser, told Bloomberg. Brass expects the German payments processor to enter the DAX next month.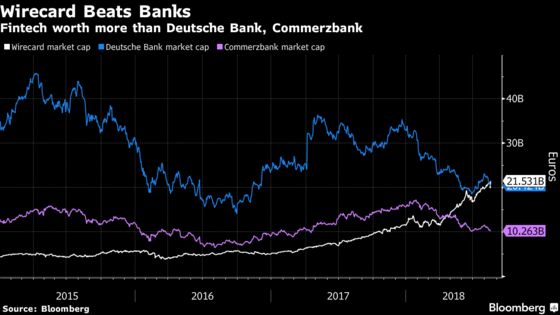 Wirecard is riding a wave of investor enthusiasm for payments companies that has sent its stock up 89 percent this year and may propel it into the DAX index at the quarterly re-balancing in September, possibly at the expense of Commerzbank AG. Germany's second-largest listed bank, a DAX member since the index's inception in 1988, has a market value about half that of Wirecard.
Commerzbank has been struggling to find a sustainable future in a saturated German market for nearly a decade, making it a perennial takeover target. Its shares have fallen about 35 percent this year.
Wirecard, founded in 1999, has benefited from an extension of its partnership with Visa Inc. on payment solutions, announced on June 5, and the successful initial public offering of Dutch competitor Adyen NV, whose shares almost doubled in value on its first day of trading.
Wirecard's growth is fueled by a shift away from cash toward digital payments that's only just beginning, Chief Executive Officer Markus Braun said Thursday in an interview with Bloomberg TV.
"In the next 10 years, we can strongly outperform what we achieved in the last 10 years," Braun said. The company will for now focus on organic growth, instead of pursuing acquisitions, he said.
Wirecard rose 8.8 percent to 175.45 euros at 10:43 a.m. in Frankfurt, giving the company a market value of 21.7 billion euros.