UBS Wealth Unit Sees Value in Euro-Area Banks After-Rout
(Bloomberg) -- Euro-area banking shares, the biggest losers in the region's Turkey-driven market retreat, are starting to look oversold, according to UBS Wealth Management.
Lenders in countries sharing the euro helped knock the Stoxx 600 Banks Index into a bear market on Wednesday, sending the sector to its lowest level since November 2016 as a broader commodities-driven sell-off added to concerns about banks' exposure to Turkey. The Euro Stoxx Banks Index also slid, shedding 7.4 percent in a six-day rout as the standoff between President Recep Tayyip Erdogan and U.S. President Donald Trump hardened.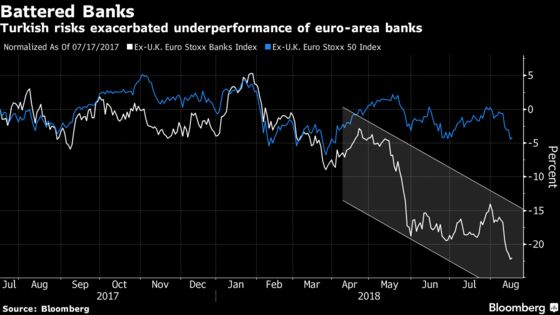 U.S. and European stocks are heading for a weekly decline, spurring fears that the sell-off may be just the start of a broader correction. UBS Wealth Management has been warning investors about risks in stocks for about a month now, after abandoning its overweight stance on global equities in mid-July because it believed markets weren't fully pricing in escalating trade tensions. Now, the market may be taking too harsh a view on lenders, said Mark Haefele, global chief investment officer at UBS Wealth Management.
"Banks have had an exaggerated reaction to Turkish exposure," Haefele said by email. "We thought the market was underestimating the wider risks around tariffs. And I think that the market has begun to price that in."
UBS isn't alone in seeing value in the region's banking stocks. Citigroup Inc. strategists this week called European banks the "world's biggest contrarian trade" and recommended buying them because of attractive valuations and dividend payout expectations.
Haefele also sees emerging-market currencies, such as the South African rand, as a value opportunity. While the country has few ties to Turkey, the rand has been caught in the crosshairs of the Turkish market turmoil and sank on Wednesday after Moody's Investors Service said the pace of South Africa's fiscal consolidation will be slower than government forecasts. UBS has a neutral stance on the South African currency and adds that the rand faces other headwinds that make it a "risky trade."
"Since the economic growth in much of the world remains strong, particularly in the U.S., the biggest risk of a bear market continues to stem from a mix of policy decisions coming out of the Trump administration, the Federal Reserve, and the Chinese leadership," said Haefele.