U.S. Stocks Vulnerable as Tech and Momentum Become One Trade
(Bloomberg) -- It's getting easier for technology stocks to singlehandedly tip over the U.S. equity market.
The ebbs and flows of the S&P 500 Index are increasingly connected to strategies that bet market winners will keep on winning. These momentum portfolios, in turn, are moving in unison with technology stocks in a fashion seldom seen since the January peak in U.S. equity markets.
"Momentum's correlation to tech and the overall market has risen sharply over the last couple of weeks, increasing the risk of a tech-driven selloff in the broad market," Mayank Seksaria, chief macro strategist at Macro Risk Advisors, wrote in a note Thursday.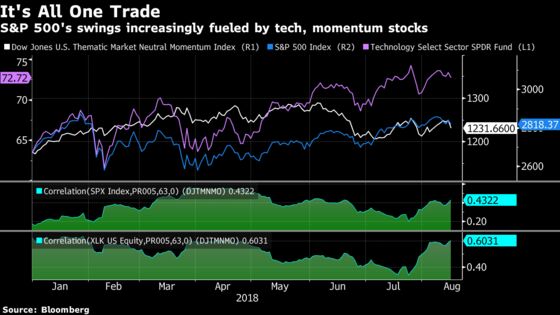 The connection between equities, tech and momentum strengthened to similar levels just before the swift drop in U.S. stocks in mid-March. Meanwhile, the S&P 500 Index is now less correlated with other factors, such as value and size, than it was a month ago. This suggests that other pockets of the market won't effectively be able to cushion the blow at the index level should these correlations hold amid a tech tumult, according to the strategist.
Wednesday was a potential preview of what a tech-led selloff might look like. The Nasdaq 100 Index suffered its worst loss of the month as the travails of China's Tencent Holdings Ltd. also afflicted U.S. tech heavyweights. On Thursday, the index was rallying with the rest of the market.
In the near term, Seksaria said, his firm prefers a portfolio that's long energy as well as defensive segments such as utilities and longer-term Treasuries, versus technology growth stocks "due to trade risk, continued curve flattening, and dollar momentum."