Hong Kong Dollar Funding Costs Surge After HKMA Defends Peg
(Bloomberg) -- Hong Kong's interbank borrowing costs climbed across the curve, as the city's currency interventions continued overnight, taking this week's total to HK$16.8 billion ($2.1 billion).
The three-month Hong Kong dollar interbank offered rate, known as Hibor, jumped by the most in more than two months, while the one-month rate climbed by the most since June 22. The Hong Kong Monetary Authority bought HK$14.6 billion of local dollars Wednesday, according to the de facto central bank's page on Bloomberg, after the currency declined to the weak end of its trading band.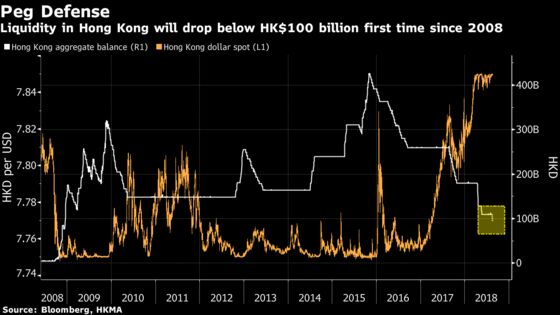 With the HKMA having begun intervening again this week for the first time since May, the aggregate balance in the city will fall to HK$92.6 billion on Friday. This would mark the first time since 2008 that the measure of interbank liquidity dips below HK$100 billion. Analysts are watching to see when efforts to defend Hong Kong's dollar will start driving up borrowing costs in the city.
"With the aggregate balance falling, interbank rates will climb gradually and press some lenders to hike prime rates," said Kim Man Ngan, co-head of treasury at China Everbright Bank Co.'s Hong Kong branch. "But Hong Kong still has ample liquidity. Pressure on the local currency may continue, as rate gaps are wide enough for carry trade and bleak stock sentiment drives outflows."
The Hong Kong dollar traded at HK$7.8496 per dollar as of 5:09 p.m. local time, near the weak end of its permitted range of HK$7.75-7.85. The Hang Seng Index slipped 0.8 percent to the lowest close in a year.
"The outflow of funds from Hong Kong is a normal and inevitable process for Hong Kong dollar interest rate normalization," HKMA chief executive Norman Chan wrote in a statement Thursday, adding the authority will continue to buy the Hong Kong dollar at 7.85 against the greenback to ensure exchange-rate stability.