Congo Copper Faces Increased LME Scrutiny With Audits
(Bloomberg) -- The London Metal Exchange will start requiring that copper producers which source metal from the Democratic Republic of Congo carry out independent audits to prove their material is ethically sourced, according to people familiar with the matter.
The LME is reviewing its requirements to ensure that no metal traded on the bourse has links to child labor, conflict or corruption. Copper producers that buy from Congo will be categorized as higher-risk suppliers alongside manufacturers of tin and cobalt, said the people, who asked not to be identified because the changes have not been made public.
The designation will mean copper producers could be removed from the LME's list of deliverable brands unless a third-party auditor signs off on their sourcing standards, the people said. The new rules will require producers to show they're not buying metal from suppliers linked to human-rights abuses, money laundering and bribery.
The LME is in the process of making revisions to its plans following feedback from industry associations, a spokeswoman for the bourse said. It will publish a position paper on the subject in the coming weeks and will invite further input from the wider market, she said.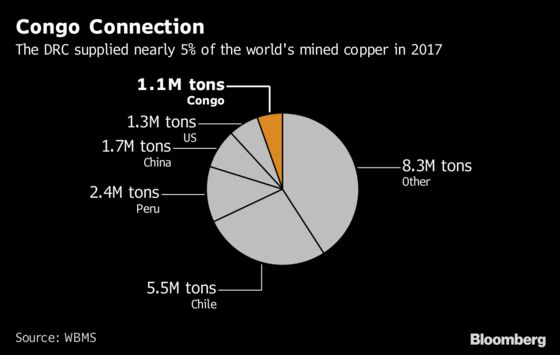 While there are no LME-listed copper brands originating from Congo, smelters in neighboring Zambia that import semi-processed ores known as concentrates from the DRC may need to carry out audits.
There are four Zambian brands listed on the LME. Some other producers also buy semi-refined products such as blister copper from Congo's copperbelt region.
Other changes the LME is said to be planning:
Producers of all metals must demonstrate compliance with the Organization for Economic Cooperation and Development's responsible-sourcing guidelines.
Cobalt producers will have a shorter deadline by which to complete their supply-chain reviews, compared with suppliers of other metals.
Copper producers who can attest that they don't buy from Congo won't be required to carry out a third-party audit.
Neither will producers of zinc, lead, aluminum, nickel, and molybdenum, which will be categorized as lower-risk suppliers.
The LME is set to announce the plans in late September or October, and may still tweak proposals following further industry consultation.
While broadly welcoming the review, the industry has expressed concern to the LME that the responsible-sourcing efforts could result in a disconnect in pricing between audited and unaudited brands, said the people. The LME is also keen to avoid a mass delisting if producers aren't able to complete the reviews before a planned deadline at the end of 2020, they said.
"It's the implementation that's a concern, especially given that many of the criteria for responsible sourcing don't really apply to copper," Mark Loveitt, chairman of the International Wrought Copper Council, said in an interview.
In an initial white paper, the LME said it would require all copper producers to carry out supply-chain audits. The bourse has softened its stance to accommodate the majority of copper miners that have no connection to Congo, two of the people said.