Australia's Unemployment Falls to Lowest in Almost Six Years
(Bloomberg) -- Australia's jobless rate dropped to the lowest level since November 2012, edging toward the full employment level the central bank is targeting, even as hiring fell and fewer people sought work in July.
Unemployment fell to 5.3 percent from 5.4 percent in June, which was also economists' median estimate, Australian Bureau of Statistics data showed in Sydney Thursday. The central bank estimates full employment at about 5 percent, a level that theoretically drives faster wage growth. Employment fell 3,900 from June, when it rose an upwardly revised 58,200.
"From a Reserve Bank perspective, the positives would outweigh the negatives," said economist Callam Pickering of global jobs site Indeed, who previously worked at the central bank. "The unemployment rate continues its gradual decline and full-time employment growth should, in time, reduce the level of labor underutilization."
Australia's jobs market has remained solid this year, even as it cools from 2017's record run of full-time hiring. Annual economic growth accelerated to above 3 percent in the first quarter; the central bank is relying on that rapid expansion and record-low rates to help rekindle inflation. That would potentially clear the path for the first interest-rate hike since 2010, though traders see little prospect of a move in the next 12 months.
The Australian dollar advanced, with jobs data hitting as China announced U.S. trade talks, cooling fears of a full-blown trade war. It bought 72.66 U.S. cents at 12:33 p.m. in Sydney from 72.36 pre-data.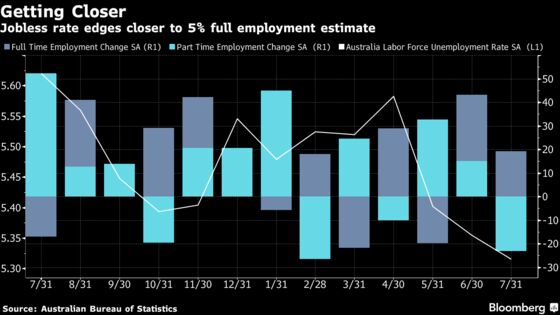 Thursday's report showed that 19.300 full-time jobs were added in July, while part-time roles dropped 23,200; the participation rate declined to 65.5 percent from 65.7 percent in June, which was also economists' median estimate. 
Job gains were led by Victoria state, adding 29,400 roles as its unemployment rate dropped to 5 percent from 5.6 percent. New South Wales led losses, shedding 27,100 jobs, with its jobless rate climbing to 4.9 percent from 4.7 percent.
"The recent improvement in full-time employment is positive," Pickering said. But "there is still much progress to be made on the labor front. Broader measures of unemployment, such as the underutilization rate, are still near their peak. This largely explains why wage growth continues to disappoint."
Australia's wage growth remained subdued in the second quarter, ABS data showed Wednesday.