A Billion Dollar Stock Mysteriously Surges. Here May Be Why
(Bloomberg) -- Ferroglobe Plc surged as much as 21 percent Thursday, leaving traders puzzled about the move in a company valued at more than $1 billion. The reason may lie in a report showing a better balance-sheet for the company's majority owner and higher metal prices, according to a note by Stifel Financial Corp. analyst Vincent Anderson.
Grupo Villar Mir SA, which holds nearly a 55 percent stake, made a divestiture which cuts its debt below 500 million euros, according to a report by El Confidencial. Meanwhile the official spot silicon metal prices released yesterday were higher than the industry expected, Anderson says.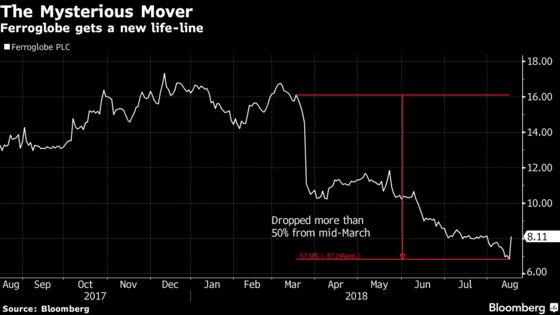 Ferroglobe's shares had seen a more than 50 percent decline from mid-March until yesterday, after the U.S. International Trade Commission made negative determinations in the final phase of antidumping and countervailing duty investigations for silicon metals. The stock's 12-month forward EV-to-Ebitda multiple of 4.4 times traded at a 50 percent discount to its two-year historical average of 8.6 times, putting the shares into very oversold territory.
Anderson said Ferroglobe shares have come under pressure recently on weaker commodity price along with "miscommunication" regarding its acquisition of Glencore's Manganese Plants in France and Norway. However, he says Stifel "remains comfortable" with its buy rating on Ferroglobe.