Great Yum China Deal. Wrong Buyer
(Bloomberg Opinion) -- The party at China's oldest Western food chain is missing a key guest.
China Investment Corp. is joining a consortium including Hillhouse Capital and former KKR & Co. senior executives planning a $14 billion-plus acquisition of Yum China Holdings Inc., Vinicy Chan, Cathy Chan, Carol Zhong and Manuel Baigorri wrote Wednesday. The purchase of the KFC and Pizza Hut operations, spun off just a couple of years ago from Yum! Brands Inc., would be the biggest consumer-brand deal the country has seen.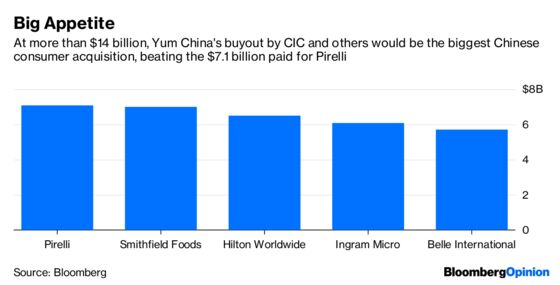 Yum China's almost 8,200 stores across the nation are struggling with rising competition and flagging sales, and the transaction gives the company a couple of useful things. With CIC, the sovereign-wealth fund, the iconic American brands get a perceived seal of government approval after they'd lost favor among trendy diners in China's biggest cities. Meanwhile, the involvement of tech-savvy and cost-conscious private-equity buyers like KKR and Hillhouse could help promote the chains in a world where the smartphone is the center of food ordering.
There's another bonus: CIC is about as local as an owner can get, at a time when localization is becoming more important to China's retail scene than chasing premium brands. Even Starbucks is starting to feel the heat from homegrown Luckin Coffee stores.
What the biggest American dining chain in China really needs, however, is an owner that can help cut costs efficiently, and even more important, expand in lower-tier cities, where its fried chicken and pizzas still have some allure. Yum China has begun that process, but it needs a hand.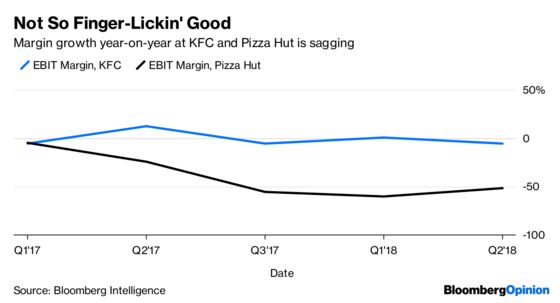 McDonald's Corp.'s China strategy might have been a better model. The burger giant last year sold 80 percent of its Hong Kong and Chinese business to Citic Group Corp. and Carlyle Group. What it got from Citic, a state-owned behemoth with real estate holdings, was access to cheaper properties and an owner whose core competence is running businesses efficiently.
There's probably a limit to how much money Yum China's private-equity backers can throw into the franchise – or cut costs, or for that matter localize. It already offers congee in KFC outlets and durian and Peking duck pizza in Pizza Hut, for instance. Pizza Hut may be the biggest challenge (Britain's PizzaExpress is now in Chinese hands and success continues to elude that chain), but KFC has prospects.
So what's really needed is a strategic investor – a heavyweight Chinese restaurant or property backer who can get the sales strategy right in second- and-third-tier cities. While that's lacking, the whole banquet look a lot less appealing.
This column does not necessarily reflect the opinion of the editorial board or Bloomberg LP and its owners.
Nisha Gopalan is a Bloomberg Opinion columnist covering deals and banking. She previously worked for the Wall Street Journal and Dow Jones as an editor and a reporter.