Traders Hedging for More Losses in World's Worst Stock Market
(Bloomberg) -- Turkish shares are already the world's worst performers this year. Options traders are bracing for more losses.
The cost of hedging against declines in an exchange-traded fund tracking the nation's stocks has jumped to the highest level since late April, data compiled by Bloomberg show. As the iShares MSCI Turkey ETF plunged as much as 32 percent this month, the volume on the U.S.-listed security and its options surged.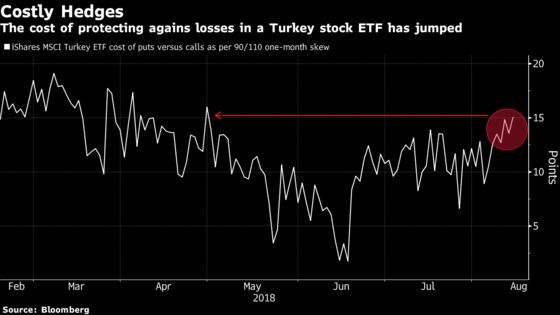 The Turkish meltdown that sent risk assets plunging has exacerbated concerns about President Recep Tayyip Erdogan's approach to economic policy. While the lira has rebounded, it remains near a record low, and the benchmark Borsa Istanbul 100 Index is down for a third day out of four.