Top Indonesia Manager Sees More Losses After $27 Billion Rout
(Bloomberg) -- More than $27 billion of Indonesian equity value has vanished in two days, and the rout may not be over yet, says the manager of one of the nation's best-performing funds.
Jemmy Paul, the chief executive officer of PT Sucorinvest Asset Management, expects at least another "big" leg down in the stock market before confidence returns. And an increase in the key interest rate on Wednesday -- as some have suggested -- would not help tamper the plunge in the rupiah, he says.
Turkey's woes have shaken sentiment across emerging markets and that, compounded with a wider-than-expected current-account deficit in Indonesia, has sent the Jakarta Composite Index down more than 5 percent in the past two days -- the biggest loss among 95 stock markets tracked by Bloomberg. The rupiah has sunk near a record.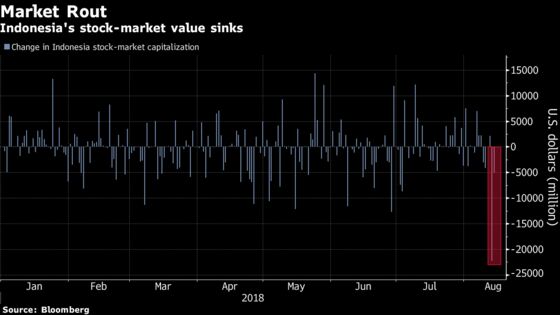 "Once the crisis starts to compromise the balance sheet of Turkey's banks, then the contagion concerns become real," Paul said by phone. "I'm still too afraid to deploy my cash."
His equity fund has beaten 92 percent of its peers this year and holds about 10 percent in cash, out of a maximum allowed 20 percent.
Fund managers at Aberdeen Standard Investments and Samuel Aset Manajemen are also expecting the rout to worsen, though they say investors should remain confident as Indonesia's economic and corporate fundamentals are strong.
Bank Indonesia is scheduled to announce its policy decision later on Wednesday, with 20 out of 28 economists surveyed by Bloomberg predicting the central bank will maintain its seven-day reverse repurchase rate at 5.25 percent.