Tencent Sends Emerging-Market Shares to Third-Worst Day of Year
(Bloomberg) -- Investors were looking for contagion in all the wrong places.
The travails of Chinese internet giant Tencent Holdings Ltd. matter more to emerging-market equities than Turkey's turmoil, with hints that technology stocks stateside won't be immune from this storm.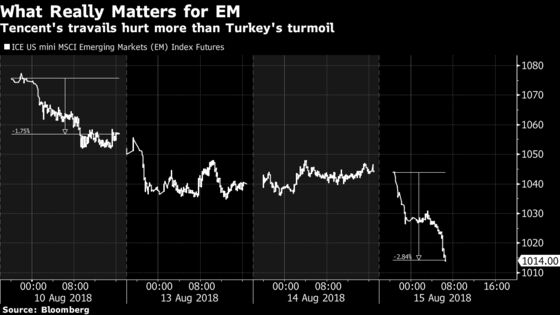 This broad reaction to company-specific news is a function of the huge weighting Chinese tech stocks have in emerging-market equity gauges. Tencent is the largest component of the MSCI Emerging Markets Index, and the trio of BAT stocks -- which also includes Baidu and Alibaba -- constitutes one-tenth of the benchmark gauge.
Tencent's disappointing results sparked the biggest drop since 2008 for Naspers Ltd., the South African media firm that owns nearly a third of the online behemoth. The ripple effects were felt back in the U.S., with Nasdaq 100 equity futures selling off in sympathy.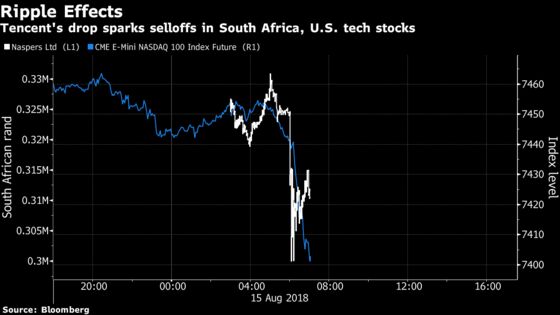 For investors, the fear is that U.S. tech stocks -- which have powered the S&P 500's advance -- catch a cold as their Chinese peers come down with pneumonia.
U.S. tech heavyweights have remained relatively isolated from the woes of their Chinese counterparts. An exchange-traded fund that tracks the Nasdaq 100 has gained almost 17 percent this year, compared with a 20 percent decline for the Invesco China Technology ETF. The 21-session correlation for the two tech gauges is at the weakest levels of 2018.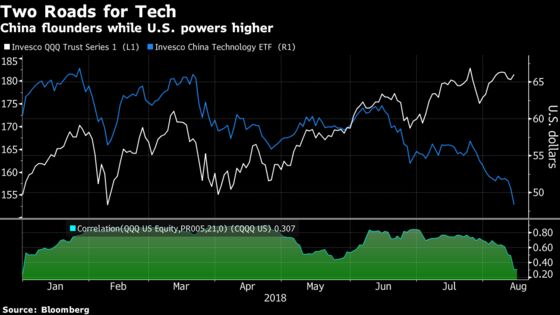 Long positions in the FAANG quintet of Facebook, Amazon, Apple, Neflix, and Alphabet (the parent of Google) as well as the Chinese tech trio was judged to be the most crowded trade for the seventh consecutive month, according to Bank of America Merrill Lynch's August survey of fund managers.
"The stellar run of FAANGs has raised investors' concerns about the narrowness of market returns," wrote Maneesh Deshpande, the head of equity derivatives strategy at Barclays.
The outperformance of this select handful of stocks has pushed this market shallowness to "elevated" levels, he said, while adding that alone is no reason to believe U.S. stocks are due to decline over the next year.
For more on China's app economy, check out the Decrypted podcast: