Tencent's Slide Drags Down U.S. Chipmaker Stocks
(Bloomberg) -- China's freeze on approving new video and streaming games is icing American chipmaker stocks.
All 30 members of the Philadelphia Semiconductor Index fell at least 0.5 percent Wednesday, with Micron Technology Inc. plunging more than 5 percent. The measure is on track to close below its average price for the past 200 days for the first time in more than a month. The group has lost around 5 percent since Thursday, when Morgan Stanley downgraded it on concern over high inventories.
The latest blow comes after a Bloomberg report that China's regulators have frozen approval of game licenses amid a government shake-up, according to people familiar with the matter. Tencent Holdings Ltd. cited the slowdown as one of the reasons for its first profit decline in at least a decade. The earnings miss sparked a broad rout in tech shares around the world.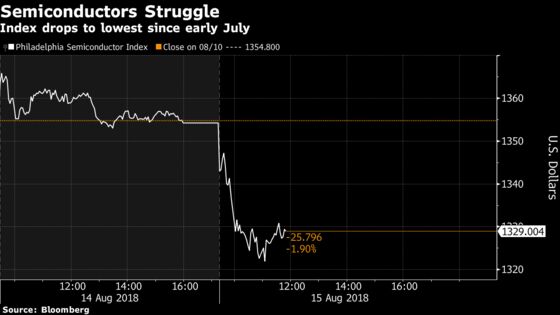 Adding to Micron's woes were a lower price target by Wells Fargo and news that hedge funds slashed their holdings of the company by 14 percent in the second quarter, according to Bloomberg data. Shares of NXP Semiconductors NV are also declining after Farallon Capital Management cut its stake for the first time in eight quarters.
"Semiconductors typically work together on the way down," Bloomberg Intelligence analyst Anand Srinivasan said. "There's not that much separation between 'good names' and 'bad names."'
Micron Slips as Wells Fargo Sees Downside to Long-Term Estimates
Western Digital Cut on Competition, Lower Cost Position: Cowen