Nordic Funds Prove Haven in $56 Billion Europe Stock Drain
(Bloomberg) -- Europe's best-performing funds also happen to be the only exceptions to the $56 billion exodus from the region's stocks. And they all come from one part of the continent.
Of this year's 10 best-performing Western European equity funds with assets exceeding $1 billion, two are Swedish and three from Norway, data compiled by Bloomberg show. As the rest of Europe bleeds cash in the longest streak of redemptions since early 2017, Scandinavian funds have proved an anomaly, attracting inflows, according to EPFR Global.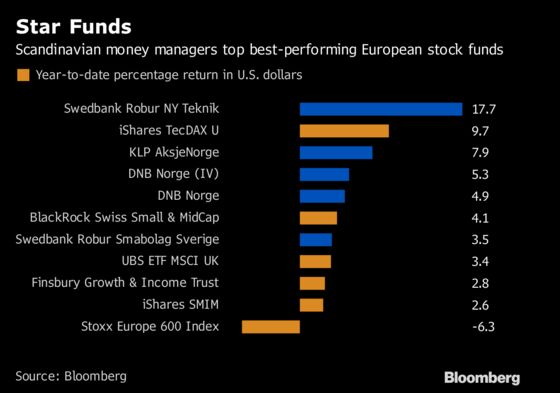 Their secret? Scandinavian economies' stable recovery and isolation from euro currency risk, as well as fund managers' focus on mid- and small-cap companies that offer growth opportunities have enticed investors. In contrast, traders have been abandoning the rest of Europe in favor of U.S. stocks amid concerns that American trade tariffs will compound an already slow recovery in earnings.
"If people have concerns about Europe, they see the Nordic region as safe," said Carl Armfelt. He co-manages the Swedbank Robur Ny Teknik fund, the best performer according to the Bloomberg data, which focuses on smaller high-tech Swedish companies and has returned 18 percent this year in dollar terms. "If you see more sluggish equity markets, Nordics will be a winner because of the companies' lower debt levels and strong corporate governance."
Armfelt's peer-beating fund has more than doubled its assets to 23.3 billion Swedish krona ($2.6 billion) over the past year, with most of 2018's inflows coming from small retail investors, he said.
Investors have pulled money from European equity funds for 22 consecutive weeks, Bank of America Merrill Lynch strategists said on Aug. 10, citing EPFR data. While Swedish and Norwegian funds have experienced positive and negative flows in the past five months, July brought $296 million into Swedish funds and $15 million into Norway's as the European exit continued, EPFR data show.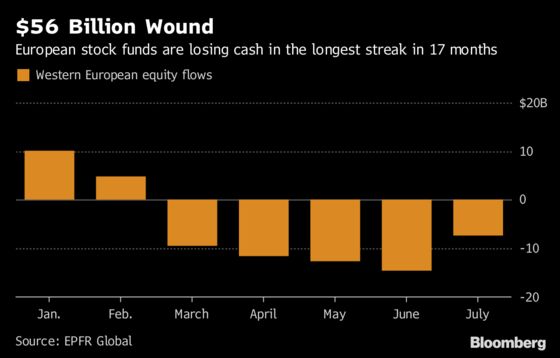 Swedish manufacturing accelerated more than anticipated in July, with the PMI gauge adding to the list of statistics confirming continued strength in the largest Nordic economy. Norway, among the world's biggest oil exporters, has in the meantime benefited from this year's recovery in the price of crude. In contrast, the euro-area's PMI gauge has declined in five out of seven months this year, dispelling hopes of stronger momentum.
Nordic stock markets succumbed to the risk-off mood on Wednesday as raw material producers pulled the Stoxx Europe 600 Index lower amid fallout from the turmoil in Turkey. The OMX Stockholm 30 Index erased earlier gains, falling 0.5 percent. Oslo's OBX Index slid 1 percent.
"Investors have been positive about Norway due to the rising oil prices, and Scandi in general on the political stability," said Joakim Embu, a co-manager of the KLP AksjeNorge fund at KLP Kapitalforvaltning AS in Oslo, the third-best performing fund in Europe this year. "Norway is still a young market in terms of equity savings, and increasing numbers of Norwegians realize the benefit of diversifying their savings via investing."