Nasty Earnings Surprises Dog China's Tech Darlings
(Bloomberg Opinion) -- Just a few months ago, optimism was order of the day among Chinese technology investors.
Beijing was going to welcome home U.S.-traded Chinese tech stars by allowing them to dual-list on mainland exchanges, while Hong Kong opened its arms to the hottest unicorns by removing requirements that companies have a track record of profits before going to initial public offerings.
How things have changed. Even before a Bloomberg News report Wednesday of a government shake-up of game licenses sent tech stocks sliding, China's tech companies have been throwing out nasty curve-balls. That suggests it's worth asking whether the country's tech entrepreneurs are as good at running their businesses as they like to boast.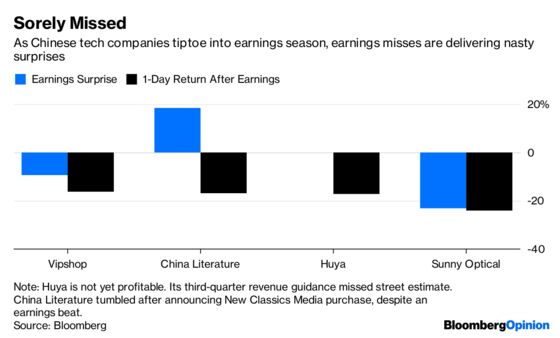 There are many examples. Smartphone lens maker Sunny Optical Technology Group Co Ltd. lost over $4 billion of its market cap on Tuesday after first-half earnings fell more than 20 percent short of analyst estimates. Sentiment was dented by a small decline in camera module profit margin, an issue that's somewhat beyond management's control – but a foreign exchange loss that essentially wiped out any profit increase from a year earlier was far less forgivable. 
The 201 million yuan ($29 million) forex loss, according to Sunny Optical, was "mainly caused by" charges against a $600 million U.S. dollar bond it issued in late January. The tech bull market was in full swing at the time and Sunny issued the bonds cheap, even though it didn't really need the money.
China Literature Ltd. is another head-scratcher. The e-books platform, spun off from Tencent Holdings Ltd. last November, sank below its IPO price Wednesday after it agreed to buy New Classics Media, a TV series and film producer, for up to 15.5 billion yuan. Diluting shareholders with such a large stock-based acquisition so soon after an IPO isn't a great way of convincing them that you're on their side.
One also wonders if China Literature could have got New Classics for less. In March, Beijing Enlight Media Co. sold its 27.6 percent stake in the producer to Tencent at a valuation of about 12 billion yuan. Five months on, China Literature is paying 29 percent more, even though New Classics' long-time shareholders have no viable exit routes. (Because of their volatile earnings, film companies have a hard time going public in China, while venture capital has been drying up as China's deleveraging campaign bites.)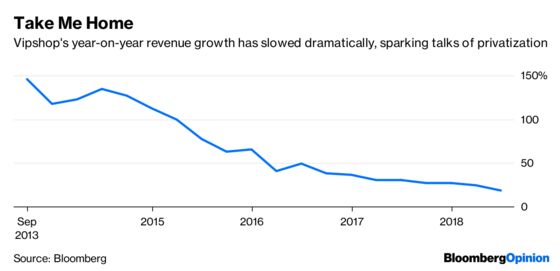 Then there's discount e-commerce site Vipshop Holdings Ltd., whose shares are down 36 percent this year. An investor darling in 2015, Vipshop has since suffered from being left off Tencent's WeChat social media platform, where other e-commerce players have been busy picking up new shoppers. In the June quarter, revenue grew only 18.4 percent from a year ago, toward the low end of management's forecast. The only upside to the shares (according to CICC Research, which has a polite "hold" rating) is "privatization".
The KraneShares CSI China Internet ETF, which tracks U.S. and Hong Kong-listed stocks, has already lost almost 18 percent from its late July high and fallen to a 13-month low – but don't be surprised if China's tech names suffer yet more pain as the trade war with the U.S. escalates and the yuan slides further.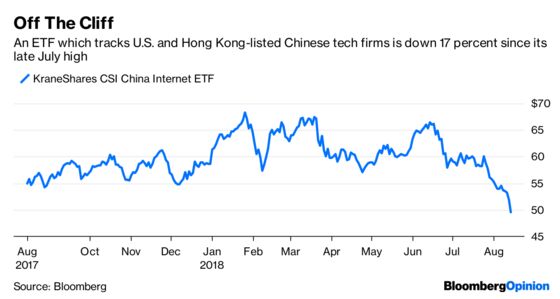 According to the latest fund manager survey by Bank of America Inc.'s Merrill Lynch unit, tech stocks such as Baidu Inc., Alibaba Group Holding Ltd., and Tencent and their U.S. counterparts remain the most crowded trades for the seventh straight month, suggesting there's a way to go before we hit bottom.
China's tech entrepreneurs like to talk big. Xiaomi Corp.'s founder Lei Jun promised investors who bought into the handset-maker's IPO that their returns would double. Baidu's Robin Li said he would defeat Google again if the Internet giant returns to China. JD.com Inc.'s Richard Liu plans to take on Amazon.com Inc. in Europe.
Such grand ambitions are all very well. Without successful implementation, though, they don't count for much.
This column does not necessarily reflect the opinion of the editorial board or Bloomberg LP and its owners.
Shuli Ren is a Bloomberg Opinion columnist covering Asian markets. She previously wrote on markets for Barron's, following a career as an investment banker, and is a CFA charterholder.