It's a Lovely Trade War for China's Property Firms
(Bloomberg Opinion) -- The trade dispute with the U.S. hangs like an ax over China's economy, but for the country's real estate developers, it's a boon. Onshore funding is opening up and the government is once again smiling on higher prices.
Property investors should be doubly relieved: Beijing's measures to rein in financial risk and cut developers' access to debt have so far failed to tamp down price gains, even as they took a toll on stock prices.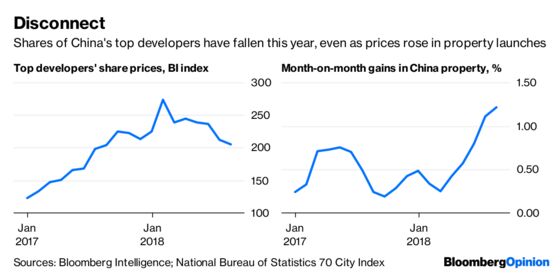 After pretty much closing the doors to onshore bond issuance in late 2016, the government is easing them open. Yuan bond sales by developers rose 30 percent in July from June, to the highest level since April. This month alone, Greentown China Holdings Ltd., CIFI Holdings Group Co. and Longfor Group Holdings Ltd. were among property companies announcing yuan bond plans.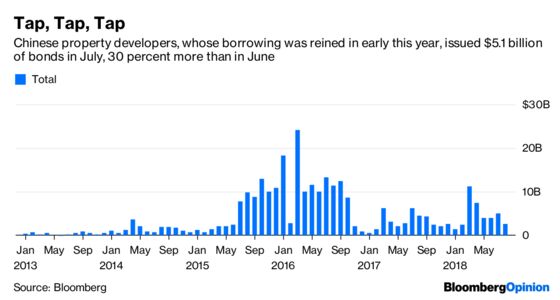 Even as the measures to 
curb
 prices accumulate, there are recent signs local governments are actually lifting values. 
Regional and municipal authorities tend to guide prices in the primary market, resulting in the unusual situation where newly launched homes are cheaper than existing ones. According to analysts at CLSA, these governments are now allowing developers to offer smaller discounts to older homes — with authorities in tier-one and tier-two cities going so far as to cap prices near those of the secondary market. That's spurred sales: Launches increased by 30 percent, to 45 projects per week between June and July from 34 in the April-May period, the brokerage said, citing data compiled by China Real Estate Information Corp. 
It's only a matter of time before banks, with easier access to funding themselves, start offering better mortgage deals. Soured home loans are well below the average for all debt, and regulators are less leery of mortgage lenders.
That's not to say this is party time for all Chinese developers, especially those that need to tap overseas funding. China has been slowing approvals for offshore bonds and is considering whether to ban short-dated issuance in dollars, Bloomberg News reported in late June. Since then, short-term bond sales — which don't need government approval — have ground to a halt, and offshore bonds sold by real estate firms tended to be for refinancing.
On top of that, don't assume offshore bonds are worth the effort. With the Fed raising rates, funding costs outside China are climbing from the six-year lows seen in 2017, according to Kristy Hung of Bloomberg Intelligence. China Evergrande Group paid the most, at 8.1 percent,  and Sunac China Holdings Ltd. forked out 6 percent. Expect those costs to rise further.
Moreover, not all developers can benefit from government largess: The bigger players with access to funding are best placed to buy land and keep selling at higher prices. Evergrande's first-half profit more than doubled, while Country Garden Holdings Co., the nation's biggest real estate firm by revenue, forecast a 50 percent surge in sales this year. That kind of boom is unlikely to be replicated at smaller unlisted firms, which are being bought out in a consolidation spree.
Beijing has long had to balance its goals of affordable housing with enough underlying price appreciation to boost the economy and fill its coffers. With the trade war moving up a gear, the second objective is ascendant. China's biggest property firms have reason to cheer.
This column does not necessarily reflect the opinion of the editorial board or Bloomberg LP and its owners.
Nisha Gopalan is a Bloomberg Opinion columnist covering deals and banking. She previously worked for the Wall Street Journal and Dow Jones as an editor and a reporter.