Hedge Funds Pile Into Camping World and Other RV Stocks
(Bloomberg) -- Hedge fund moguls may be more likely to own a jet than a motorhome but that isn't stopping them from piling into recreational vehicle stocks.
Camping World Holdings Inc. was one of the biggest beneficiaries of this trend in the second quarter with new stakes from funds including Dan Loeb's Third Point and David Rosen's Rubric Capital. Third Point bought a 7.6 percent stake valued at $70.6 million as of June 30, according to a filing Friday. Rubric disclosed a new 7.3 percent stake in a filing Tuesday. Other funds like Scopus Asset Management and Carlson Capital LP added to their positions in the quarter.
The investments come amid a rocky year for Camping World and the rest of the RV sector. Shares of the Lincolnshire, Illinois-based company have fallen 54 percent this year, including a 23 percent slide in the second quarter amid concerns about production cuts and a retail slowdown.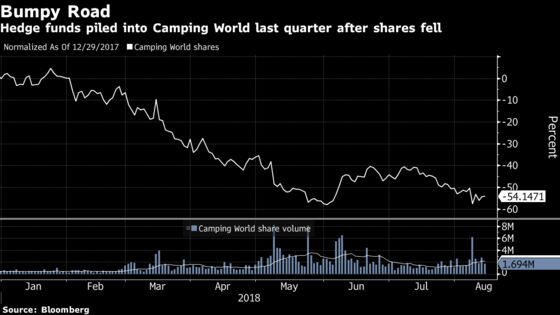 The sector-wide slump hasn't deterred hedge funds from building positions in other RV stocks, including Thor Industries Inc. and Winnebago Industries Inc. The pair have attracted interest from funds including AQR Capital Management, Millennium Management and Prescott Group Capital Management.