Hedge Fund Hidden Gems Lurk Deep Inside the 13Fs: Taking Stock
(Bloomberg) -- There's a lot of red on the screens this morning, and it just got to be a darker shade the second Chinese supercap Tencent (TCEHY is the ADR) came out with their numbers. And they weren't good -- net income whiffed the estimate by ~1.4 billion yuan for its first profit drop in at least a decade -- and the tech sector is feeling it early on as ADRs for the other members of "BAT" (Alibaba and Baidu) are down ~3% while JD.com, referred by some as the "Amazon of China," is sliding 5% ahead of earnings Thursday morning.
That might get the tech and general market bears riled up again, the same ones who came out of hibernation in late July after the Facebook and Twitter earnings blowups led to a three-day mini-panic in the FAANGs. The recent action in the semiconductors is also helping the bears' case, with the SOX underperforming yesterday and having now fallen 3.5% in the past four sessions vs the S&P 500 off 0.6%.
The weakness in semis can be partly explained by other earnings disappointments out of Asia, namely China's Sunny Optical (a ~$13b market cap smartphone lens maker that lost nearly a quarter of its value on Tuesday) and Taiwan's Hon Hai Precision. Another ugly sign is the persistent decline in Chinese smartphone giant Xiaomi, which slid below its July IPO price to end the day at an all-time low. Next up is Nvidia and Applied Materials earnings, both scheduled for Thursday after the bell.
The deadline for second-quarter fund filings has come and gone, our wrap of the biggest changes is on the wire, the hours-long TOPLive blog had a ton of good quickfire insight, and some of the bigger takes (like Trian's new mystery holding, Spotify getting hedgie love, two of Tesla's biggest holders slashing stakes, and who got burned on Twitter) have already been reported out.
But beneath the largest market value shifts are some hidden gems that could lead to increased interest over the next few days and weeks, like what we saw last quarter when a little-known Chinese IPO named Bilibili surged ~70% in the month after the mid-May deadline. Here are some names to watch after this latest round of 13-Fs:
MongoDB (MDB) -- This database software company that has been on a tear since its IPO last October has attracted some new monster investors, like Whale Rock massively boosting their position by more than 3 million shares to become the second-largest holder with ~15% of shares. Activist Corvex, Davidson Kempner, and Columbus Circle all took new stakes of 779k, 400k, and 165k, respectively, while Millennium, Altimeter, and Tudor Investment all added to their holdings in the name.
Carvana (CVNA) -- This used-car e-commerce company already had a popular following among hedge funds, and those holdings saw further upticks during the second quarter (HFs are now at ~28% of shares outstanding). New fans include Melvin Capital with 1.7m shares (~5% of outstanding), Frontier Capital with 1.05m, Whale Rock with 842k, and Hound Partners with 704k; this stock is up 32% since the end of June, and up 187% year-to-date, which makes everyone a winner. Except for the shorts, of course, who continue to get squeezed beyond belief (SI was at >50% of float in November).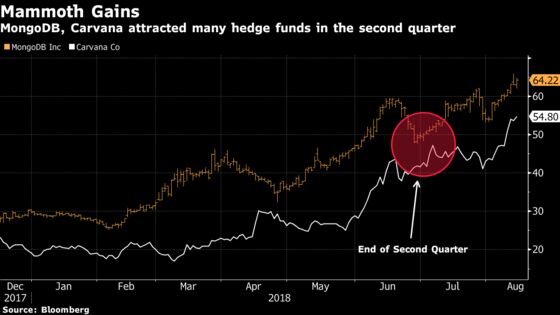 Applied Optoelectronics (AAOI) -- The optical networking sector was hit on the ZTE sanctions several months back, and it looks like some investors have been buying on the dip in hopes of a big recovery, at least in the case of Applied Opto. Maverick Capital plowed 1.9m shares during the second quarter to become the largest hedge fund holder with nearly 10% of shares outstanding. Discovery Capital and Polar Asset Management also purchased new stakes at 832k and 118k, respectively.
HUYA Inc. (HUYA) -- I went into this during yesterday's TOPLive blog, but worth mentioning that this Chinese live game streamer had a boatload of hedgies get involved during the second quarter (Alkeon ~2m shares, Tiger Global ~1.1m, Coatue ~850k, Luxor ~467k, Kerrisdale ~341k); sadly, for the ones that held on, the ADRs notched their worst ever day as a public company on Tuesday after the company released a disappointing revenue outlook. Shares have fallen ~43% from the mid-June peak.
Camping World Holdings (CWH) -- I already went into this RV maker ad nauseam in Monday's Taking Stock thanks to an early 13-F from Third Point, but I can't let this one go just yet knowing what we now know. Aside from Mr. Loeb, others that took a shot on this one in the second quarter were Rubric Capital (new 2.7m stake, or 7.3% of outstanding), Wasatch Advisors (new 1.98m stake), JL Bainbridge (new 902k stake) along with boosts from Eagle Asset, Carillon Tower, Royce & Associates, and Carlson Capital. Mind you, this hasn't exactly been a great investment of late, with shares more than halving so far this year.
The biggest call of the day, and maybe even all week, is Wells Fargo reversing course on Nvidia in astonishing fashion. Analyst Aaron Rakers last night double upgraded the semiconductor giant to an outperform, swinging the price target from a measly $140 to one of the highest on the Street at $315 (the average is ~$283), just ahead of Thursday earnings. He gives a plethora of reasons, but it all boils down to this: "Our call is based on a longer-term view of Nvidia's competitive positioning in gaming and expanding growth opportunities in data center (AI / deep learning / HPC) and autonomous vehicles." And since we're talking all-things 13-F today, just a note that Lone Pine Capital took a new 2.1 million-share stake in Nvidia during the second quarter.
Morgan Stanley's John Glass is now the biggest bull on Chipotle after he upgraded shares to an overweight with a Street-high price target of $600 (more than 29% above the Street average), citing a still-early sales turnaround and an attractive management change narrative. Separately, the bank is downgrading Schnitzer Steel to an underweight on earnings impact from declining scrap prices.
Deutsche Bank is shifting some ratings in the rails space, upgrading Norfolk Southern to a buy on "increased conviction that out-year earnings power is underappreciated" and downgrading Union Pacific to a hold.
Tick-by-Tick Guide to Today's Actionable Events
Today -- Gulf of Mexico oil-and-gas drilling rights auction
7:30am -- MSGN earnings
8:00am -- M earnings
8:00am -- Tencent earnings call
8:30am -- Empire Manufacturing, Retail Sales, Nonfarm Productivity, Unit Labor Costs
9:15am -- Industrial Production
9:30am -- M earnings call
10:00am -- NAHB Housing Market Index, Business Inventories
10:30am -- DoE oil inventories
4:00pm -- TIC Flows
4:01pm -- NTAP earnings
4:05pm -- CSCO earnings
4:15pm -- CACI earnings
4:30pm -- CSCO earnings call
5:00pm -- NTAP earnings call