Elliott Lawyer Warns Korea Better Brace for Activist Funds
(Bloomberg) -- The lawyer who advised billionaire Paul Singer in his proxy fight against Samsung Group says he's seeing a surge of interest from activist investors who view South Korea's businesses as potential targets.
Inquiries to his law firm about shareholder activism have tripled, Choi Young-ik, founding manager at Nexus Law Group, said in an interview this month at his Seoul office. Local investors and hedge funds based in the U.S. and U.K. are reaching out, he said.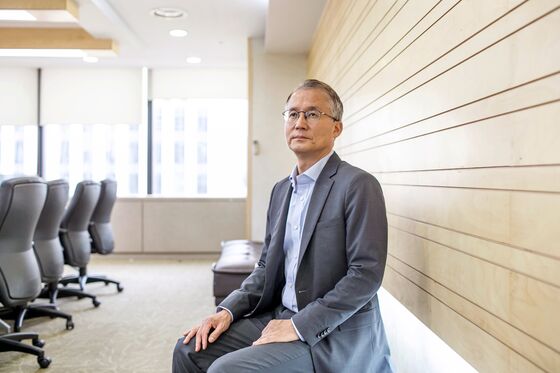 The rising interest in activism comes as President Moon Jae-in attempts to push the country's powerful family-owned conglomerates, locally known as chaebol, to improve corporate governance and boost investor returns. His predecessor Park Geun-hye was last year impeached in an influence-peddling scandal related to the country's largest conglomerate, Samsung.
"Shareholder activism is only at the beginning stage in South Korea," Choi said. Hedge funds, mostly from the U.S. or U.K., aim to boost their returns from shareholder activism by 15 percent to 40 percent in South Korea, he said.
When Choi, 55, represented Singer's Elliott Management Corp. against Samsung Group over a controversial merger three years ago, long-time friends publicly criticized him for representing a "vulture fund," he said.
But Samsung's tumultuous merger backfired a little more than a year later amid allegations that Samsung paid bribes to a friend of then-president Park to get government support in the company's succession plans. Lee was convicted, though he walked free from prison early this year after his sentence was suspended, while Park is serving her decades-long prison term. Both Lee and Park, whose appeal trials are ongoing, have denied any wrongdoing.
"Korean companies' growth has been driven by swift and bold decisions made by their owners through massive investments or the starting of new businesses," said Song. "Those decisions may be delayed and difficult in the short term if fund activism increases and shareholder rights are strengthened."
The combined market capitalization of the five biggest chaebol's listed companies accounts for about half of the total Kospi, according to data compiled by Bloomberg.
Korean chaebol, whose units typically trade at discounts to global peers amid concerns about their governance, have faced fewer activists than in markets such as Japan and Singapore.
Activists have had dismal track records in the country with big names investors like billionaire Carl Icahn fighting losing battles, said Yoon Jin-soo, an associate research fellow at Korea Corporate Governance Service, a local proxy advisor. Changes came only after the Samsung merger, Yoon said.
After targeting Samsung Electronics Co. for more than a decade, Singer's campaign in 2016 finally succeeded in pushing the tech giant to boost stock buybacks and increase dividends. Most recently, Hyundai Motor Group shelved a $8.8 billion deal under pressure from Elliott, marking an unprecedented victory for shareholder activists in South Korea.
Choi has advised Elliott Management since 2001. Still, the number of foreign hedge funds who eventually initiate a proxy fight against Korean corporations is small because of a lack of local protections of minority shareholders, he said.
"Many foreign investors are hesitating to take legal actions in Korea because they have low confidence in the legal system," Choi said. "The commercial law has to be complemented with measures that can prevent minority shareholders from being deprived of their rights by controlling shareholders."
Choi is now leading the country's first activist campaign by a local hedge fund against a foreign fund in Korea. Seoul-based Platform Partners Asset Management, which manages 553 billion won ($495 million) of assets, is mimicking Elliott's campaign strategy -- start a website, post presentations and open letters -- to win against Macquarie Korea Infrastructure Fund. It's urging Macquarie to reduce management fees and boost returns to shareholders.
His big dream? To write a kind of bible that's a guide to shareholder activism for foreign investors in South Korea.