Citi Touts European Banks in 'World's Biggest Contrarian Trade'
(Bloomberg) -- European banking stocks have been punished like no other sector in the region this year. Unless you're expecting a financial crisis, now may be the time to take advantage of valuations near a two-year low, according to strategists at Citigroup Inc.
Fearful of potential contagion from Turkey, investors accelerated their flight from the Stoxx 600 Banks Index in the past week, sending the gauge to its lowest level since 2016. Yet, while some measures -- such as the spread between dividend yields and corporate bond yields -- may signal distress, the capital positions, returns and profitability of European lenders are in better shape than similar situations in the last 10 years, the strategists said.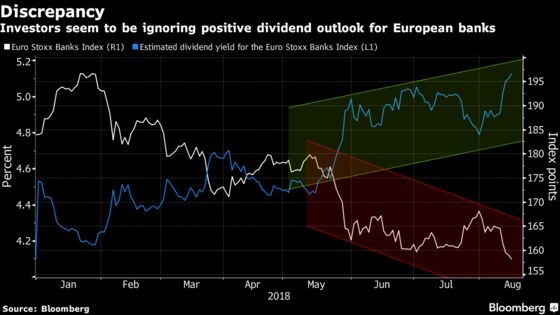 The increase in analysts' dividend estimates for the sector is at odds with the tumbling stock prices, Citigroup said. Another disconnect is the rising return on equity while valuations sink.
"Banks in Europe remain the world's biggest contrarian trade," Citigroup strategists led by Jonathan Stubbs said in a note. "We have a dislocation between share prices and dividend expectations, relative to the market. This suggests that there is value emerging in bank shares even if bank analysts are too optimistic on dividend expectations."
The Stoxx 600 Banks Index fell as much as 1.2 percent on Wednesday, marking the sixth straight day of declines and putting the sector on the cusp of a bear market.
Citigroup recommends buying Banco Bilbao Vizcaya Argentinaria SA, Danske Bank A/S, UniCredit SpA, DNB ASA, KBC Group NV and Barclays Plc as members of its "Dividend Kings" list.