China Makes WeChat's 1 Billion Users a Tempting Target for Tencent
(Bloomberg Opinion) -- Pony Ma has been very patient. Unfortunately for him, investors haven't, and earnings released late Wednesday will give them little reason to hold their breath.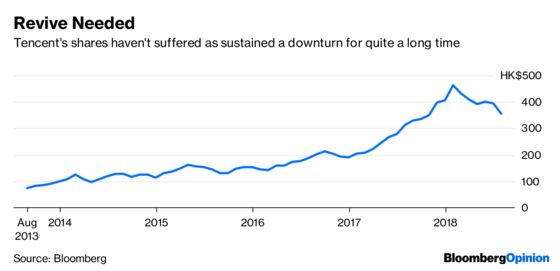 Now China's halt in new licences could make it harder for Tencent to keep growing revenue from its online games operation — its most important business.
Fortunately, Ma has an alternative growth engine in the form of social advertising. Tencent could pump ads to the WeChat (aka Weixin) app's 1.06 billion instant messaging users to boost revenue. But his team has wisely avoided opening this spigot too much because they don't want to flood users with spam, something that could risk engagement just as it's becoming the most powerful app in China.
Tencent's decision to take its time is based on the hope that there's a bigger fortune to be made by making WeChat useful and ubiquitous instead of simply rushing to turn it into yet another advertising platform.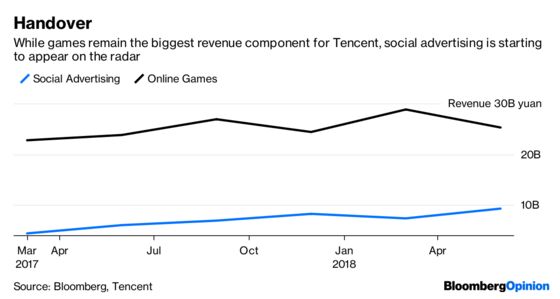 But the games segment is facing severe challenges with no clear endpoint. Just this week, within days of debuting Monster Hunt: World, Tencent had to pull the title, citing a failure to meet regulatory standards and what the Shenzhen-based company said were significant numbers of complaints received by authorities.
And then Bloomberg's Lulu Chen and Steven Yang discovered that it wasn't in fact personal: China has frozen approvals for game licenses in general. So, while Tencent isn't alone, it's still the biggest name in games, and what looks like an internal reshuffle of Chinese regulatory departments could mean a prolonged delay in the release of new titles.
It's this that puts Tencent in a bind. Sure, everyone will be equally affected by a halt in the launch of new games. But that's not likely to placate investors given that the division contributes 34 percent of revenue.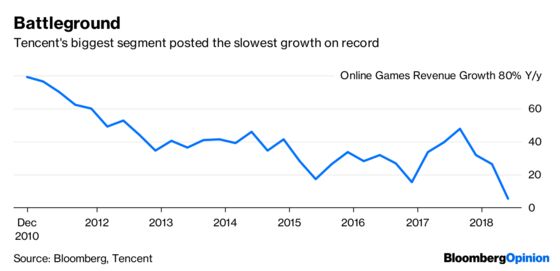 The damage was revealed in the second-quarter numbers: Revenue from online games climbed a mere 6 percent, the slowest pace since at least 2010. Even more damaging is the 19 percent decline in revenue from the prior quarter in the smartphone subset (even if it was up 19 percent on the year-earlier period). It pointed specifically to "non-monetization of popular tactical tournament games and timing of new game releases." While Tencent can publish the popular PUBG Mobile game in China, it's not been given the go-ahead to derive actual revenue from it. Ouch!
Yet management may be loath to shovel more ads down the WeChat chute given the balance it must strike between generating revenue and the app's usability. One of the chief complaints I keep hearing from Line users, many of whom are switching back to WhatsApp, is that it has become too spammy, with an overload of promotions and ads spurring many to turn off notifications. Some have quit the app altogether.
Tencent will surely be wary of that same trap. While consumers have little option to quit WeChat because it's so integrated in everyday life, there's every chance that a spammy feed will prompt them to disengage, or worse spend more time on alternatives offered by the likes of Alibaba Group Holding Ltd.
Adding to the conundrum is likely instability in earnings from Tencent's share portfolio, which Bloomberg data puts in the region of $16 billion. Its top holding, China Literature Ltd., has lost 23 percent in the past four days. Spotify Technology SA, the second-largest, has done marvelously since its debut on the public markets, but can't be sold for two years. The third is Tesla Inc. — enough said.
There are other places Tencent could look, like digital content, where its battling hard to gain traction. But none look quite as enticing as monetizing some of WeChat's 1 billion users.
This column does not necessarily reflect the opinion of the editorial board or Bloomberg LP and its owners.
Tim Culpan is a Bloomberg Opinion columnist covering technology. He previously covered technology for Bloomberg News.