China Firm on 8-Year Winning Streak Is Opening a New Hedge Fund
(Bloomberg) -- Snow Lake Capital Ltd., manager of one of only a handful of Greater China-focused stock hedge funds to have an eight-year track record of gains, is opening a new Asia fund to outside investors in early September, people with knowledge of the matter said.
The Snow Lake Asia Master Fund returned almost 16 percent in four months of trading with internal money through July, said the people, who asked not to be identified because the information is private. The total amount of money being sought from outside investors hasn't yet been determined, they said.
Firm founder Sean Ma will oversee the new fund, along with Paul Kim and Yusuke Saito, who both once helped manage money at Louis Bacon's Moore Capital Management LP. Jonathan Gasthalter, a New York-based spokesman for the firm, declined to comment.
Snow Lake is pushing ahead with a fresh capital raising amid increased volatility as central banks scale back stimulus and geopolitical risks roil markets. New hedge fund openings in the first quarter were the lowest since the last three months of 2016, data from Hedge Fund Research Inc. show. Funds that bet on stocks both rising and falling in Asia lost 2.9 percent on average in the first seven months of 2018, preliminary data from Eurekahedge suggest.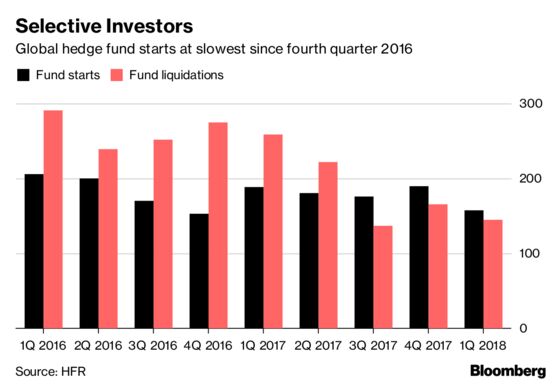 Snow Lake's $1.2 billion flagship China hedge fund has gained in every calendar year since trading began in February 2010, with an annualized average return of 13.5 percent, the people said. That makes it a standout in a region where markets -- and hedge fund performances -- tend to swing widely on policy changes and international capital flows.
Only one out of the 67 Greater China equity long-short hedge funds that Eurekahedge tracks and that have been continuously trading since 2010 hasn't made any loss in a calendar year so far, according to Mohammad Hassan, the research group's head hedge fund and indexation analyst. Snow Lake doesn't report into Eurekahedge's data base, the people said.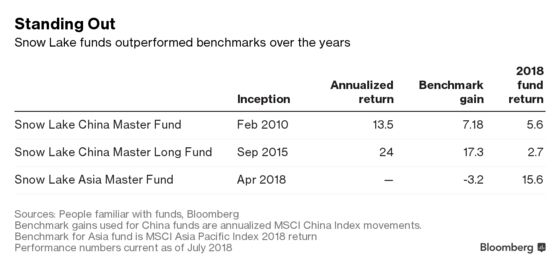 This wouldn't be the first time that Snow Lake, whose name takes inspiration from the once-in-a-decade snowstorm that hit Hangzhou's scenic West Lake in 1979 (also the year Ma was born), has opened a new fund amid market turmoil. Its China long-only fund began trading in September 2015, bargain hunting in a year when the MSCI China Index slumped 10 percent.
Taking a page from Ziff Brothers Investments LLC, Snow Lake's China hedge fund typically holds 10 to 20 companies over a three- to five-year time frame, the people said. Its usual targets are firms that don't make many headlines, that have been publicly traded for a while and have a market value of $5 billion to $10 billion. It shuns stocks that are investor darlings or that have gotten too big or too expensive without a proven business model or steady cash flows, the people added.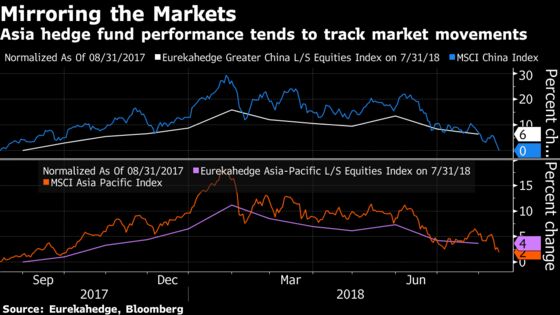 The China hedge fund also usually caps its net exposure at 30 percent, meaning the value of bullish investments doesn't exceed bearish wagers by that amount, the people said. The fund ceased accepting additional money from investors at the end of March.
Snow Lake's new Asia fund will cap net exposure at 50 percent and expand its scope to South Korea and Japan, the people said. Like its sister fund, it will focus on four industries including consumer, technology, media and telecommunications, and healthcare and financials.
Ma started his financial career on Credit Suisse Group AG's technology M&A investment banking team in San Francisco before stints as an analyst with Ziff Brothers in Silicon Valley and Asian Century Quest Capital LLC, a New York-based hedge fund that at its peak oversaw almost $2 billion.
He set up Snow Lake in late 2009 with backing from Zhang Lei, the founder of Hillhouse Capital Management Ltd. With offices in Hong Kong and Beijing, Snow Lake now oversees some $1.5 billion.