Bear Markets Loom as Copper-EM Doom Loop Hits Six-Year High
(Bloomberg) -- Copper and developing-nation stocks are marching in lockstep toward bear territory, adding insult to injury for the battered emerging-market complex.
Shares of raw-material producers traded near the cheapest valuation in five years this week, spurred by copper's decline to the lowest in 13 months. That helped push the MSCI Emerging Markets Index toward the bear territory, extending losses from a January peak to almost 20 percent.
Sure, disappointing earnings from Chinese tech giant Tencent Holdings are doing their bit to fuel the sell-off. But the tumultuous trading is delivering a key lesson to investors: the old-school negative feedback loop between commodities and emerging-market stocks is back with vengeance.
Case in point: the MSCI equity index and copper contracts on the London Metal Exchange are increasingly moving together. The 52-week correlation is close to a six-year high.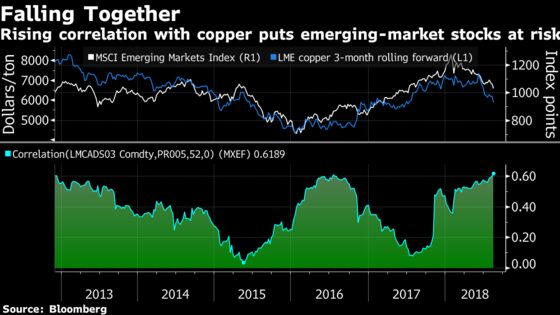 It's bringing fresh pain to developing nations hit by the U.S.-China trade war, Turkey's currency meltdown, and the dollar rally.
In a sense, parallel declines in commodities and stocks mark a return to the investing environment between 2014 and 2016. Back then, localized market turmoil in China and Russia coagulated into a broad sell-off, pushing at least 26 developing nations into bear markets.
While the commodity subgroup accounts for less than 8 percent of MSCI Inc.'s emerging-market classification by weight, its importance to non-Asian economies such as Russia, South Africa and Brazil shouldn't be underestimated. If China and its neighbors are excluded from MSCI gauges, raw-material prices are effectively the most vital driver of equity and currency outlooks.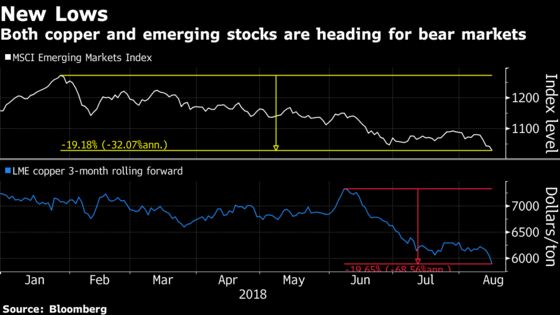 The world's three biggest copper producers are emerging economies, according to the International Copper Study Group. Chile, Peru and China are joined by Congo, Zambia, Mexico and Indonesia in the top 10.
A gauge of emerging-market currencies has dropped over 5 percent this year, but any ensuing benefits to exports are being offset by tensions in global commerce and the Bloomberg Commodity Index near one-year lows.
The emerging-market equity gauge extended losses for a seventh day, the longest losing streak in six months.