World-Beating U.S. Stocks Show No Sign of Falling Back to the Pack
(Bloomberg) -- As U.S. stocks continue to trounce the rest of the world, investors have started worrying the party's almost over. It isn't, according to Bespoke Investment Group.
The summer advance in American equities that's left the S&P 500 Index within striking distance of an all-time high has pushed their advantage over global peers to levels never before seen.
"As long as the relative performance of the U.S. market versus global stocks has strong momentum, outperformance typically continues," Bespoke analysts wrote in an Aug. 13 note. "Simply buying international stocks because they've lagged U.S. stocks is a poor strategy."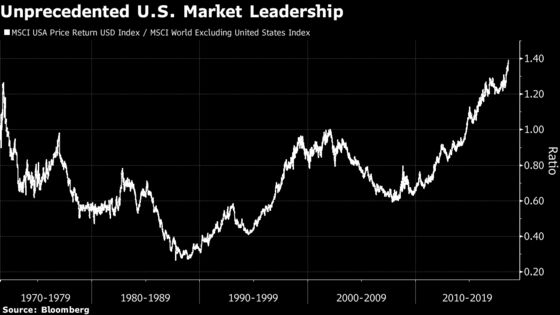 That's not to say investor concerns are without merit. The worsening economic crisis in Turkey has shown signs of spilling over into other emerging markets and still has the potential to spread further. For some, the current U.S. market leadership at a time of stress in developing-market currencies looks like a rerun of an episode that aired two decades ago.
That blowup prompted then Federal Reserve Chairman Alan Greenspan to warn that it wasn't "credible that the United States can remain an oasis of prosperity unaffected by a world that is experiencing greatly increased stress."
Though his angst was warranted, investors are betting that such sentiments will be proven wrong this time around, as corporate profits continue to surge with the American economy. Bank of America Merrill Lynch's monthly survey showed fund managers are the most overweight U.S. stocks since January 2015.
And it's more than the one-time boost to earnings from a corporate tax cut. Robust, widespread revenue growth also helps explain why investors are confident American outperformance will persist.
Jonathan Golub, chief U.S. equity strategist at Credit Suisse, highlighted that top-line growth of 9.5 percent in the second quarter was the strongest since 2011, with all sectors surprising to the upside.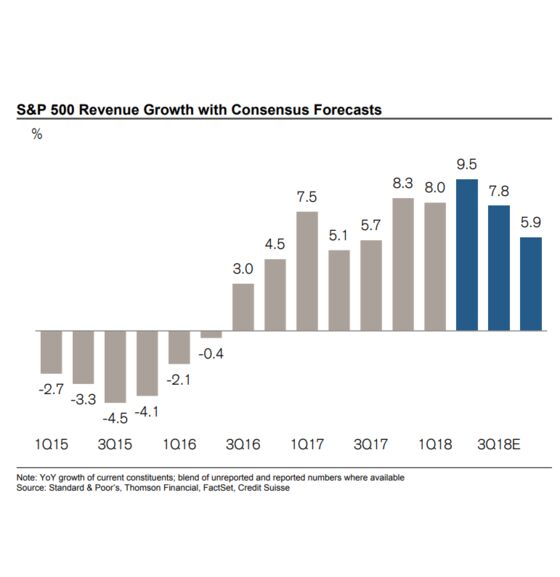 Analysts tend to underestimate how much revenues get a lift from stronger economic growth, according to Golub, and overestimate the hit to corporate profitability from higher commodity prices.
"I think that it's not bearish to say that these crazy numbers are going to decelerate, but if I said to you in year 10 or 11 of the cycle we'd have 7 to 8 percent earnings per share growth with limited near-term recession risk you'd be pretty happy with that," he added. "And I'd be buying that all day."
Small businesses affirm the message that an end to the U.S. expansion is far from imminent. The National Federation of Independent Business' index of small business optimism rose to a cycle high of 107.9 in July, a tick shy of its record reading from July 1983.
Tony Dwyer, chief market strategist at Canaccord Genuity and one of Wall Street's biggest bulls, found that this gauge tends to peak more than three years before a recession arrives, based on data going back to 1974.
"There is no way to spin this as negative," he tweeted.