Lira Gains as Central Bank Withholds Cheap Cash for Second Day
(Bloomberg) -- The Turkish lira surged as the central bank tightened liquidity and local retail accounts sold dollars to take profit after the currency slid almost 30 percent against the greenback over the past month.
The central bank didn't offer commercial lenders any cash through its one-week repo liquidity window for a second day, a move that will force them to borrow from a more expensive overnight rate of 19.25 percent, said Erkin Isik, a strategist at Turk Ekonomi Bankasi AS. The current repo rate is 17.75 percent.
Retail accounts sold an estimated $50 million to $60 million of foreign exchange on Tuesday morning, according to an Istanbul-based currency trader who declined to be named as they were not authorized to speak to the media. A dearth of trading liquidity also added to the move in the lira, the trader said.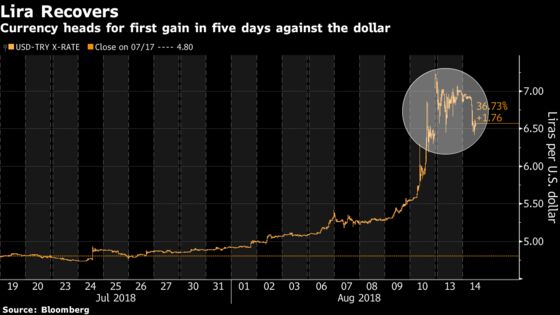 Amid a showdown with the U.S. over a detained American pastor, President Recep Tayyip Erdogan said there be will a boycott of U.S. electronics and the Turkish people will fight against the dollar in the same way they pushed back a 2016 coup attempt. Erdogan's long-held distaste of higher borrowing costs has led to a loss of confidence in the authorities' ability to anchor the nation's assets.
"We could have a very sharp U-turn in the markets if all of a sudden Erdogan decides to give way politically in this crisis," Hans Humes, chairman and chief executive at Greylock Capital Management, said on Bloomberg TV. "Our expectation is that there will be a pretty sharp bounce in prices when this crisis subsides."
The Turkish currency was up 4.8 percent at 6.5682 per dollar as of 12:39 p.m. in Istanbul. The yield on 10-year government bonds fell as much as 143 basis points to 21.26 percent. The Turkish Treasury canceled a planned 10-year bond auction Tuesday, it said in a statement on Monday, a move that helps support the long-end of the bond curve by limiting supply.