Tiger, Tremblant, Columbus Went Big on Twitter Before Earnings
(Bloomberg) -- There was a lot of movement in Twitter, a hedge fund favorite (around 17 percent of outstanding shares are held by hedge funds), prior to the big earnings blowup in late July. The stock is down 24 percent in the past month and a half.
Coatue is the largest hedge fund holder with around 25.3 million shares, though that's down from a whopping roughly 35 million shares at the end of the first quarter.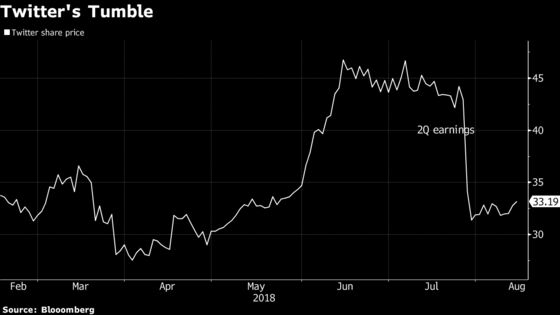 Here's who went big a month before the earnings whiff: Tiger Global bought a couple million to add to their total 11.7 million shares, Alkeon added 4.6 million shares for a total of 6.6 million, while Tremblant Capital and Columbus Circle both took new stakes of more than a million shares.
And here's who might have avoided a world of pain: Melvin Capital sold their entire 2.2 million-share stake, Moore Capital came close to exiting their entire 1.3 million-share holding, while Balyasny, Slate Path, Greenlight, and Element Capital dumped giant chunks of shares before the end of the quarter.
For more coverage of 13F filings, see the TOPLive blog.