Tata Steel Climbs After Quarterly Profit Doubles on Demand Boom
(Bloomberg) -- Tata Steel Ltd. shares advanced in Mumbai after the company said first-quarter profit doubled, with results bolstered by rising demand in India and growth in the global market supported by lower exports from China.
Net income surged to 19.5 billion rupees ($279 million) in the three months to June, from 9.18 billion rupees a year earlier, according to a statement on Monday. Revenue climbed about 22 percent to 378 billion rupees. The stock rose as much as 3.2 percent to 587 rupees, the day's second-best performer on the benchmark S&P BSE Sensex Index.
The global steel industry is benefiting from China's push to curb pollution, which has led to capacity closures, lower exports and higher prices, with top producer ArcelorMittal reporting its highest quarterly income in seven years. In India, booming demand has been driven by government spending on infrastructure and strong demand from the automotive sector.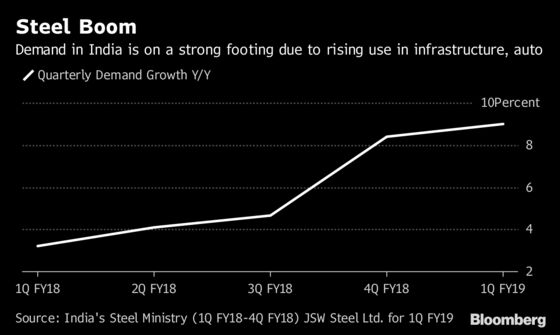 "Tata Steel delivered strong performance across all geographies on the back of strong steel demand and buoyant spreads," Managing Director T. V. Narendran said in a statement. The company's deliveries in India grew 14 percent on year, higher than the market, which saw 9 percent growth, he said.
Tata Steel has shifted its focus to the Indian market -- the company's European operations are in the process of being merged with Thyssenkrupp AG -- and the Mumbai-based company plans to double local capacity within five years. In May, Tata made its biggest purchase since acquiring Britain's Corus Group Plc by buying Bhushan Steel Ltd. and it's battling in the courts to take over another mill being sold under India's new bankruptcy law.
The impact from global trade tariffs was not as bad as initially feared as U.S. steel prices have climbed, benefiting companies like Tata that can still supply products that aren't produced in the U.S., Narendran said. Prices would remain at about $550 to $650 a ton, he said.
"Tata Steel is an ideal play on the robust domestic steel story, with acquisitions to provide volume growth in the near-term, while the joint venture will de-risk its Europe business," SBI Capital Markets Ltd. analysts led by Dayanand Mittal said in a note. "Continued supply-side actions in China will support healthy global steel spreads, while robust domestic demand augurs well for Tata's strategy to focus on Indian operations."