Smartphone Suppliers Lead Tech Stock Selloff in Hong Kong
(Bloomberg) -- Technology stocks in Hong Kong slid, led by Sunny Optical Technology Group Co., which tumbled a record 24 percent after its first-half net income missed analyst estimates.
Sunny Optical, one of this year's best performers on the benchmark Hang Seng Index until Tuesday, was followed lower by AAC Technologies Holdings Inc., which lost 7.2 percent. Index heavyweight Tencent Holdings Ltd. slid 3.4 percent, the most since March, a day before it reports earnings.
"Sunny Optical's weak earnings have affected sentiment for the whole tech sector, in particular mobile component producers including AAC Tech and Q Tech," said First Shanghai Securities strategist Linus Yip. "Sunny has reported a weak gross margin, reflecting that competition within the sector is getting fiercer. That has triggered worries about earnings of other companies in the sector."
The three stocks were among the biggest drags on the Hang Seng Index, which closed 0.7 percent lower. It was a marked turnaround for a trio viewed as firm favorites among investors recently. Sunny soared 194 percent in 2017, AAC climbed 98 percent and Tencent rose 114 percent, all posting their sixth straight years of gains.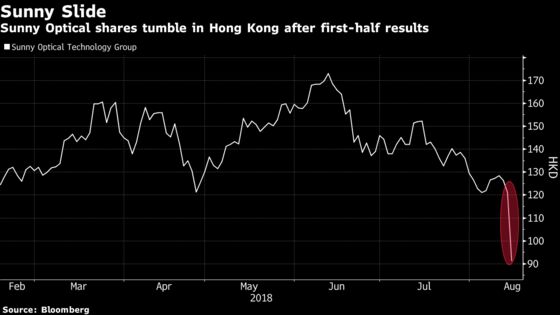 Earlier this year Sunny Optical was Asia's hottest stock, in part because the revenue it earned from China was seen as protecting it from the trade dispute with the U.S. By June 12, the smartphone lens maker had seen its market cap balloon to more than $24 billion. With Tuesday's slide slicing $4.1 billion from Sunny's value, the figure now is nearly half that.
Tencent's retreat came as Chinese regulators told the social media giant to remove Monster Hunter: World from its PC downloads service just days after the game's debut. Parts of the Capcom Co. hit failed to meet regulatory standards and the relevant authorities received a "significant amount of complaints," which in turn spurred the government to revoke an operating license, Tencent said in a statement without elaborating.
Kingsoft Corp. plunged 19 percent to also suffer its worst loss on record. The computer software developer said it may see a quarterly loss. Q Technology Group Co. retreated 4.8 percent.
The MSCI China tech subgauge slumped 2.1 percent to extend its slide from a January high to 22 percent.
Here's what other analysts said about the tech rout:
Steven Liu, analyst at China Securities International in Hong Kong
Sunny Optical's earnings is a big shock to investors. Even the leading player in the mobile component supply chain cannot maintain its profit margin. That really shocked lots of investors as people had high hopes for the company
The most worrying thing in the sector is the margin. I think investors will revise down earnings and downgrade Sunny going forward. Together with earnings downgrades and valuation derating, Sunny's shares will continue to be hurt. It's too early to bargain hunt in the sector
Alex Ng, executive director at CMB International Securities Ltd.
Sunny earnings missed estimates with higher-than-expected pressure on margin and selling price due to yuan depreciation and industry competition
The implication of Sunny's miss is that it will affect the whole supply chain and investors might turn bearish toward the stocks of peers. The derating of Sunny will hurt valuations of the whole sector