Retail Traders Turning Bearish Is Good News for Hong Kong Stocks
(Bloomberg) -- Some good news for Hong Kong investors: the plunge that has erased more than $750 billion from its stock market since late January may soon be over.
So says Dick Chau, director for UBS Group AG's equity-derivatives sales in Asia. His optimism is based on the trading of a specific type of Hang Seng Index structured product -- callable bull/bear contracts, or CBBCs -- typically tailored to retail investors. The ratio of outstanding bullish-to-bearish contracts is near a 2 1/2-year low, reflecting a pessimistic view.
"The market trend usually turns when retail investors become extremely optimistic or pessimistic," Chau said in an interview in Hong Kong. "It's quite indicative from a contrarian point of view."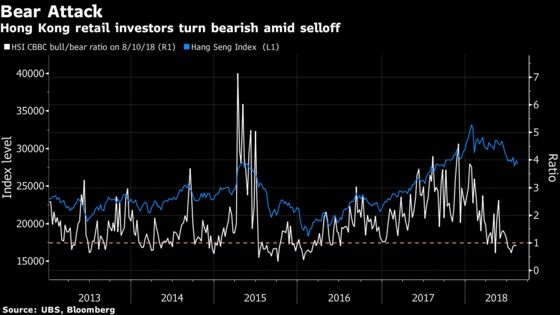 The bull-to-bear ratio was at 0.8 as of Monday, well below the five-year average of about 1.8, and has been below 1 for most of the last six weeks. In the past five years, six of the eight times when the ratio entered a period of bearishness led to a rally in the Hang Seng Index that averaged about 5 percent in the next two months, data compiled by Bloomberg show.
While many market players look at the bull-to-bear ratio to gauge investor sentiment, Chau adds a caveat: traders should not forget to take into account the macro factors when making investment decisions.
The Hong Kong gauge began this year with one of the world's best rallies before it came crashing down amid concerns ranging from China's economic health to trade friction, corporate earnings and a growing regulatory burden on companies. The benchmark has tumbled 16 percent from its January peak, hitting its lowest level since September in intraday trading Tuesday.