Overstock Loses 21 Percent of Market Value as Crypto Craze Fades
(Bloomberg) -- Overstock.com Inc. shares have forfeited almost 50 percent of their value this year, and nearly half of that plunge occurred in the last two days.
The stock has plummeted 21 percent so far this week, a reversal from Friday's surge, which came after the online retailer touted investments in its blockchain business. Overstock said late Thursday that it had raised $134 million in its crypto-coin offering and may rake in more than double that from a Hong Kong-based private-equity firm.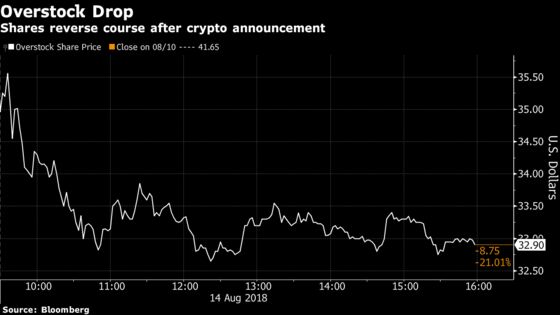 The news overshadowed, at least temporarily, a not-so-rosy development that may now be sinking in for some investors: the company's earnings, or lack thereof. Overstock reported a $64.9 million net loss in the second quarter, compared with a $7.5 million loss during the same period in 2017.