Indonesia's Tough Love Won't Crisis-Proof Its Currency
(Bloomberg Opinion) -- Just how worried are emerging markets about the dollar? We'll find out in Jakarta on Wednesday. 
Bank Indonesia is expected to hold its key rate unchanged at 5.25 percent, having preemptively lifted rates by 1 percentage points in May and June to buy itself some insurance against the stronger dollar. 
The Turkish lira's meltdown over the last week may have changed Governor Perry Warjiyo's calculation. Will Bank Indonesia be as aggressive as during the last cycle in 2013, when the central bank hiked by 175 basis points to calm down the taper tantrum? 
The rupiah is now out of the Fragile Five emerging markets most at risk of a currency crisis, according to analysis done by Bloomberg economists. Using metrics such as the current account balance and external debt outstanding, Turkey, Argentina, Colombia, South Africa and Mexico show up as the weakest links, concluded economists Ziad Daoud and Tom Orlik.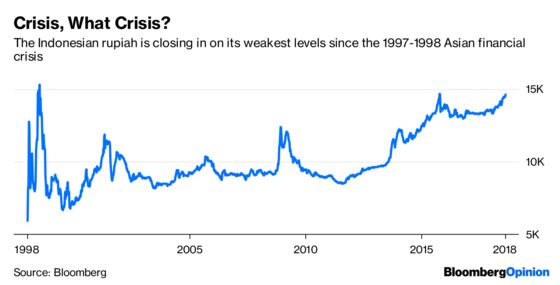 Nonetheless, the central bank has reason to be nervous. 
Indonesia's current account deficit widened to 2.36 percent of gross domestic product in the second quarter, from 2.04 percent previously. While this number is still below the 3 percent the bank is comfortable with, a widening deficit in this jittery environment is a taboo word. 
But more importantly, Bank Indonesia seems unable to stabilize the rupiah, yet. The currency is now edging near its 2015 post-Asian financial crisis low, when China scared the world with a sudden devaluation. 
Despite the fact that Warjiyo has front-loaded rate rises, the rupiah does not seem any firmer than the currencies of other deficit-saddled emerging Asian economies. The Philippines' central bank was seen as behind the curve in tightening rates in the spring and only caught up to Indonesia's 1 percentage point hike last week, yet the peso has outperformed the rupiah this year. Meanwhile, the rupee hardly did any worse, despite the Reserve Bank of India having increased rates by only 50 basis points.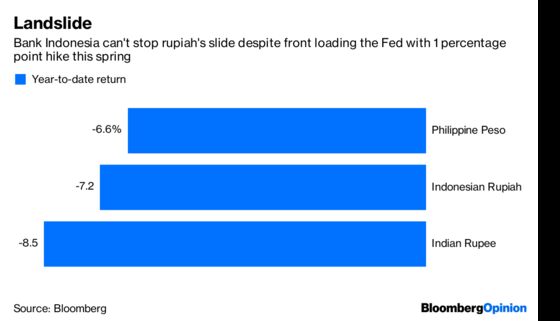 Adding insult to injury, the peso offers negative real interest while the rupiah still pays investors a decent 2.1 percent after inflation.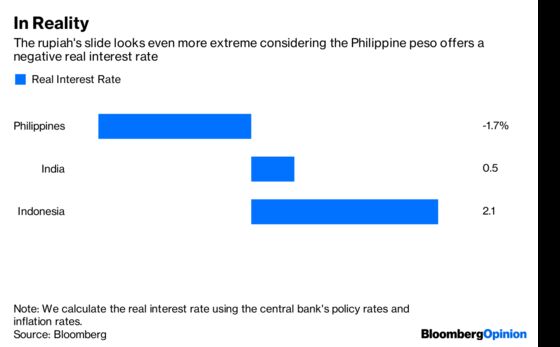 Of course, further rate rises could hamper credit and GDP growth, as Indonesians saw in the aftermath of its 2013 hiking cycle. But what if the U.S. dollar stays stronger for longer? 
The net speculative long position in dollar index futures has climbed more than six-fold since mid-June, hitting the highest level since May 2017. While bears may now regard the dollar as a crowded trade, bulls can still argue positioning hasn't gone too far to the "long" side compared to where it's been in the past.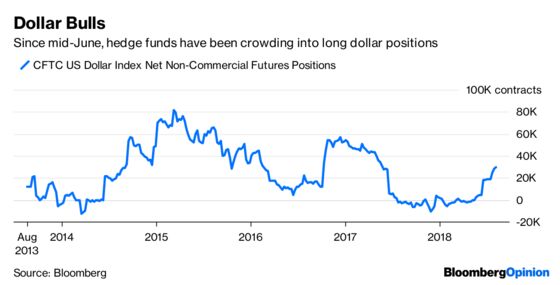 As I've argued previously, central banks around the world all prefer to act only on national concerns. But if traders are jittery and pre-emptive tightening hasn't worked, they sometimes have to go further. 
Indonesia may have left the Fragile Five. To put itself entirely out of danger, though, it may end up having to hike as aggressively as in 2013. 
This column does not necessarily reflect the opinion of the editorial board or Bloomberg LP and its owners.
Shuli Ren is a Bloomberg Opinion columnist covering Asian markets. She previously wrote on markets for Barron's, following a career as an investment banker, and is a CFA charterholder.