Indonesia Mulls Dollar Bonds as Turkey Crisis Deepens Rout
(Bloomberg) -- As a selloff in Indonesian rupiah debt persists, the government is weighing a global dollar bond offering as an option to bridge the nation's budget deficit, according to a finance ministry official.
The dollar bond sale plan "is in the government's worst-case scenario" if domestic securities market continues to be volatile, Scenaider Siahaan, the ministry's director of debt portfolio and strategy, said by phone on Monday. "That would be a conditional response. We will first assess the situation, whether or not things will turn for the better," he said.
The rout, renewed by the losses in Turkey, has sent the benchmark bond yield soaring to a 20-month high as foreign investors dumped emerging market assets. Indonesia raised 16.5 trillion rupiah ($1.1 billion) from a debt auction on Tuesday, exceeding its 10 trillion rupiah target, signaling that investor are still keen on rupiah bonds. The response to the auction would be a consideration in deciding on dollar bond sale, according to Siahaan.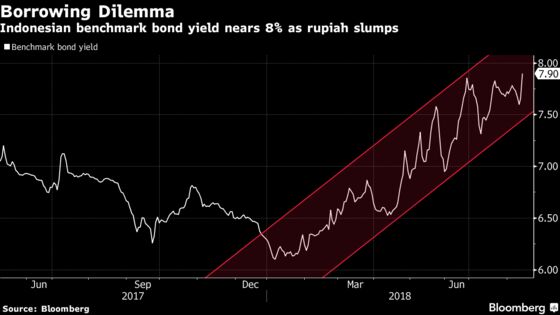 The government, which has met 63 percent of its 2018 net borrowing target, still needs to raise 144 trillion rupiah, finance ministry data show. Foreigners own almost 40 percent of Indonesia's sovereign debt.
Indonesia's local-currency debt and dollar bonds diverged in trading Tuesday. Majority of the nation's dollar securities in a Bloomberg Barclays index advanced, with the 5.95 percent bond due in 2046 and the 4.35 percent bond due in 2048 both up more than 0.6 cents on the dollar as of 3:59 p.m. in Jakarta, according to data compiled by Bloomberg.
Meanwhile, the benchmark local-currency debt continued to be sold, with the yields rising to 8.025 percent, the highest since December 2016.
Prior to the latest selloff, Western Asset Management Co. and other investors have said they were looking at buying opportunities in Indonesia's dollar debt given the government's pro-active approach to the crisis. The central bank has raised the benchmark policy rate by 100 basis points since the middle of May.
Budget financing has become more expensive with the 10-year bond yield jumping almost 170 basis points this year, and the rupiah continuing to slide, according to Siahaan.
"We are hoping the current situation is only temporary," Siahaan said. "When all of the noises subside, investors should be able to see that Indonesia has good economic fundamentals and we are managing our current account deficit."
The rupiah ended 0.1 percent higher after tumbling to 14,635 against the dollar, the lowest since October 2015. President Joko Widodo ordered his ministers on Tuesday to accelerate measures to bolster the nation's forex reserves and ensure a stable rupiah to deal with the fallout of Turkey crisis.
The government will seek to rein in current-account deficit by reducing capital equipment imports by state companies and widening a national biodiesel mandate from Sept. 1, Finance Minister Sri Mulyani Indrawati told reporters after cabinet meeting.
Foreign investors dumped a net $2.3 billion of Indonesian government bonds in the second quarter before buying $1.2 billion of securities since July, while they have been net sellers of $3.6 billion of stocks this year, according to data compiled by Bloomberg.
Indonesia will continue to be vulnerable to external risks despite its positive economic fundamentals, according to Arga Samudro, an analyst at BCA Sekuritas in Jakarta. The government may be better off paying slightly higher yield in the primary market rather than risking forex losses in the future by tapping the global bond market, he said.