In This Never-Ending Lehman Short, $170,000 Is Still on the Table
(Bloomberg) -- It's been a decade since former New York hedge fund manager Whitney Tilson made millions by betting against Lehman Brothers before it collapsed. But he's still frustrated by the profit he can't get his hands on.
Tilson has about $170,000 stranded in an account at Goldman Sachs Group Inc. because he neglected to return the 68,013 Lehman shares he'd borrowed from Goldman to make the trade.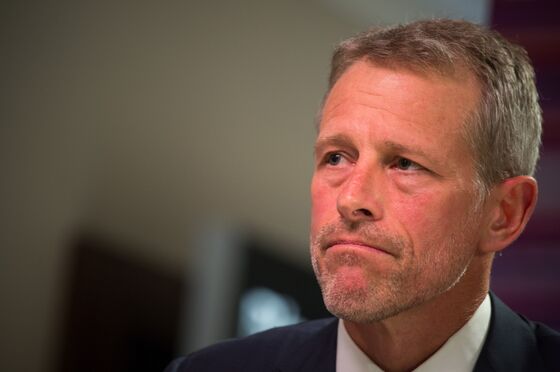 Now he says Goldman won't give him his money on the off chance that shareholders are entitled to some payout under Lehman's ongoing bankruptcy proceedings. Goldman declined to comment on Tilson's predicament and how many traders are in the same position.
"I thought the liability to return the 68,013 shares was extinguished when the company went bankrupt," Tilson said. "Turns out I was wrong."
Lehman short-sellers made a killing in the months leading up to its collapse in mid-September 2008, which ushered in the worst global financial crisis since the Great Depression.
When an investor expects a company's share price will fall, they borrow shares from a broker -- in this case Goldman -- for a fee and sell them on the market as the price falls, a process called short-selling. The investor then buys back the same number of shares at the lower price and returns them to the broker, known as short covering.
Tilson first borrowed shares following a presentation by Greenlight Capital hedge fund manager David Einhorn in November 2007 in which he pointed out that Lehman, then trading above $60, was over-leveraged and had a lot of bad assets on its books. Tilson shorted the stock again in early September 2008 when it was $17. A week later, Lehman filed for bankruptcy and its price slid as low as 15 cents.
But instead of buying back the shares and returning them to Goldman -- which would have forced him to recognize the gain and pay taxes -- Tilson decided not to cover his short position on the assumption Lehman's shares would eventually be annulled anyway.
That's not exactly what happened. While Lehman did cancel all its existing shares in March 2012, it took the unusual step of issuing one new share of common stock in their place. Former shareholders now own a proportion of that one share. He said Goldman is withholding $2.50 for each of the shares it lent to Tilson just in case shareholders, typically last in line to get paid back, are eventually able to recover something.

"Usually when a stock goes bankrupt, the shares are just cancelled and everything is settled in bankruptcy proceedings," said Ihor Dusaniwsky, the New York-based head of research at S3 Partners, a financial technology and analytics firm. "This is dragging out the pain a little longer than usual."
According to American regulatory requirements, short sellers need to maintain margins of $2.50 per share if the stock is under $5. That means until the one share is cancelled, Tilson is stuck. And yet while creditors are still getting back some money as the last pieces of litigation surrounding Lehman's bankruptcy are settled, any recovery for shareholders looks practically impossible.
Tilson only realized he was trapped in the Lehman trade last October when he decided to close his fund, Kase Capital Management.
"My warning to everyone else doing any short selling: you must cover your short position at some point before the stock stops trading," said Tilson, who's relieved he doesn't have to pay big fees for being caught in the loophole. "Don't get too cute on trying to avoid paying taxes."