Exiting Tesla Now May Beat Risking a Failed Deal, Barclays Says
(Bloomberg) -- Investors may be better off cashing out of Tesla Inc. instead of risking a deal to take the company private falling through, Barclays analyst Brian Johnson writes in a research note.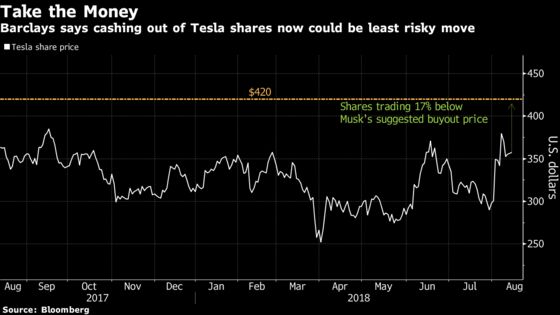 Johnson, who rates Tesla the equivalent of sell with a $210 price target, said investors should either dump the stock now at current prices and avoid potential litigation risk, or take the $420 a share that Elon Musk has said he will offer to buy them out.
Musk's latest blog post "made it clear -– as we suspected last week -– that any go-private transaction still had numerous hurdles in front of it," Johnson wrote Tuesday.
Says institutional investors need to weigh the illiquidity and funding disadvantages of private stakes with the benefits of management focus; they may also need to consider the lack of transparency and eventual liquidity inherent in a private stake
Tesla is not the only avenue for sovereign wealth funds to diversify away from oil; Johnson says the the growing electric vehicle market has numerous other public and private investment opportunities that provide a hedge against the "peak oil" argument
Tesla has 11 buys, 11 holds, 11 sells; avg price target $327: Bloomberg data
NOTES: