Down $538 Billion, Asian Stocks Still Not a Buy for Bocom
(Bloomberg) -- More than $538 billion of Asian stock values have vanished as the region experienced its biggest two-day wipe-out since February. The result? Its shares are now trading at a record-low valuation relative to the S&P 500 Index.
With a multiple of 13.3 times earnings, the MSCI Asia Pacific Index is 35 percent cheaper than the U.S. equity gauge, data compiled by Bloomberg show. On a price-to-book basis, the Asian benchmark is the cheapest since January 2002 relative to the S&P 500.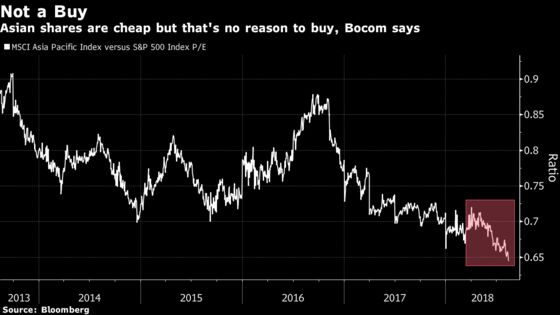 That doesn't mean it's time to buy, says Hao Hong, chief strategist at Bocom International Holdings Co. The lira slump has made a psychological indent on investors, and emerging markets will see further outflows, according to Tongli Han, chief investment officer at Deepblue Global Investment Ltd. in Hong Kong.
"It's risky to long Asian equities simply based on relative valuations," Hong said. "Despite the valuation gap, if U.S. stocks come down, Asian shares may not be spared. If the euro weakens further on European banks' exposure to Turkey, a rising dollar will put more pressure on emerging markets."
The Asian benchmark gauge is heavily weighed toward emerging markets, comprising stocks of countries such as the Philippines, one of this year's worst equity performers. At the same time, more than a third of the measure is made of Japanese shares, the biggest decliners in 2018 among developed nations.
Those have proved to be hefty burdens: The MSCI Asia Pacific Index's 6.6 percent slide this year through Monday compares with a 1.1 percent decline for the Stoxx Europe 600 Index and a 5.6 percent gain for the S&P 500.
In the past two days, Japan's equity market suffered the biggest plunge in market value, with almost $171 billion evaporating. Hong Kong's followed, losing $111 billion, while South Korea's was down $60 billion.