Dollar-Yen Carry Trade Just Got More Alluring, Thanks to BOJ
(Bloomberg) -- The dollar-yen carry trade just got more appealing for investors, thanks to the Bank of Japan.
The U.S.-Japan policy divergence has gained more prominence with Governor Haruhiko Kuroda's adoption of forward guidance to convey that rates in the Asian nation will stay extremely low for an extended period. That burnishes the appeal of the arbitrage trade, say Mitsubishi UFJ Kokusai Asset Management Co. and Mizuho Securities Co., given the Federal Reserve's projection of raising interest rates five times through end-2019.
The carry-to-risk ratio -- which compares interest-rate differentials with implied currency volatility to gauge attractiveness of a carry trade -- is the best for the dollar among G-10 exchange rates versus the yen.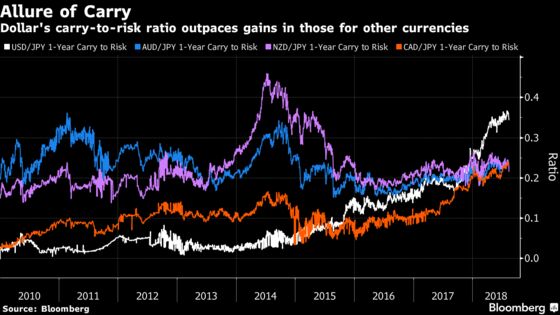 "The forward guidance is a positive for carry trade," said Kiyoshi Ishigane, chief strategist at Mitsubishi UFJ Kokusai Asset Management Co. in Tokyo. "The BOJ has decided not to move. The yen is unlikely to strengthen from the perspective of monetary policy."
Borrowing in yen to purchase dollar assets earned investors 4.9 percent in the April-June period, the best total carry return among the Group-of-10 nations when taking the yen as the funding currency, data compiled by Bloomberg show. Returns take into account the change in exchange rates, interest income and the funding costs.
The strategy lost some of its sheen in July amid widespread speculation that the BOJ will adjust its ultra-loose policy to mitigate its side effects on bank profits and bond trading.
While Kuroda made some tweaks to reduce those side effects, he also committed to "continuous powerful monetary easing," leaving him at odds with counterparts at the Fed, who continue to tighten policy. A Bloomberg survey held Aug. 3-6 shows economists now see a lower chance of any further changes to BOJ's policy through the 2019 calendar year.
The yen has weakened 6 percent from a 2018-high of 104.56 per dollar seen in late March, as a strengthening American economy continues to support risk sentiment despite concerns over the U.S.-China trade spat. The Bloomberg Dollar Spot Index is up 3.1 percent this year, following an 8.5 percent loss in 2017.
"There is almost no reason to sell the dollar and buy the yen from the perspective of fundamentals and monetary policy," said Kengo Suzuki, chief foreign-exchange strategist at Mizuho Securities Co. in Tokyo. The dollar may strengthen to 118 yen before the year-end, he said.
Carry trades take various forms. They include life insurance companies buying foreign bonds without currency hedging, retail investors holding foreign-currency deposits and traders buying a high-yielding currency via forward contracts, according to a research paper from the BOJ.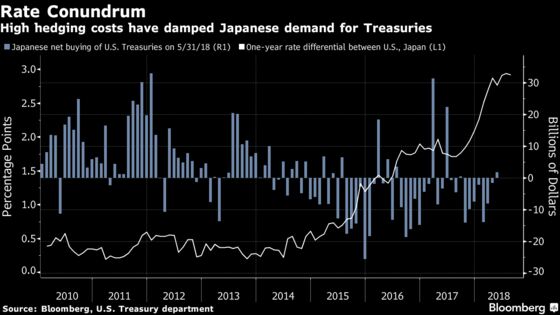 That said, the dollar's attractiveness for carry trade is at odds with shrinking demand for U.S. Treasuries among Japanese investors. They have dumped the securities in seven of the eight months through May, deterred by high currency-hedging costs that eat into the yield pick up. That's because policy tightening by the Fed means borrowing the U.S. currency as part of the hedging process is costlier.
Further, the BOJ's move to allow wider fluctuations in the benchmark yield has boosted talk of Japanese investors returning home to local bonds.
"Allowing for more flexibility suggests that rate differentials will become more balanced," TD Securities' strategists including Mazen Issa wrote in a note dated Aug. 9. "Though this will be slow, it does suggest that global capital flows will shift back in favor of inflows for Japan. We think the JPY's return profile should be asymmetrically skewed to appreciation over the medium-term."
The firm is targeting dollar-yen at 104 at the end of 2018.
Japanese investors can currently earn an interest-rate premium of 2.95 percentage points on their one-year dollar deposits over those in yen. With the dollar-yen exchange rate at 111.25 as of 6:23 a.m. in London, carry trade will remain profitable as long as the spot stays stronger than around 108.
Conversely, holding 10-year U.S. Treasuries on a currency-hedged basis for one year gives them no yield pickup whatsoever, given that the cost of protection against weakness in the dollar stands at 2.90 percent.
The table below shows the details of the carry-to-risk ratios. FX volatility refers to one-year implied volatility against the yen. The data are as of Monday and from Bloomberg.
Currency
One-year deposit rate
FX volatility
Carry-to-risk
Percent
Percent
Ratio
USD
2.83
8.56
0.34
AUD
2.49
11.61
0.22
NZD
2.35
11.50
0.21
CAD
2.29
10.44
0.23
NOK
1.36
11.31
0.13
GBP
1.10
11.63
0.10
SEK
-0.21
11.00
N/A
EUR
-0.24
9.87
N/A
DKK
-0.37
9.90
N/A
CHF
-0.65
7.85
N/A
JPY
-0.12
N/A
N/A
While the turmoil in Turkey spurred demand for haven assets and propelled the yen to a six-week high on Monday, the Bloomberg Dollar Spot Index also rallied to its highest since June 2017.
A gauge of the dollar-yen's one-year implied volatility has slipped to 8.42 percent from this year's high of 9.73 percent in early February. The decline in the pair's implied volatility over the last six months is the biggest among G-10 yen crosses.
"The dollar and yen tend to be bought during risk aversion, so the dollar-yen could have smaller volatility than other yen crosses, which is conducive to carry trades,'' said Koji Fukaya, chief executive officer at FPG Securities Co. in Tokyo. "That underscores the unique situation that we are in where the U.S. economy is outperforming others and has the strongest upside to interest rates.''