China Sovereign Fund Backs Deal for $13 Billion Yum China
(Bloomberg) -- China Investment Corp. is backing a potential takeover of Yum China Holdings Inc., people with knowledge of the matter said, in a deal that would be the biggest-ever Chinese acquisition of a consumer company.
The sovereign fund and DCP Capital, the investment firm run by former KKR & Co. senior executives, are part of a consortium with Hillhouse Capital that's considering a buyout of the operator of KFC and Pizza Hut outlets in China, according to the people. Yum China, spun off from Yum! Brands Inc. in 2016 and listed in New York, has a market value of $13.6 billion.
Baring Private Equity Asia is also joining the investor group, which already includes KKR, the people said, asking not to be identified because the information is private. The consortium is considering taking Yum China private with an eye to potentially relisting the business in Hong Kong at a later date, one of the people said.
CIC's press office didn't reply to an email seeking comment, and an official at Primavera didn't immediately respond to requests for comment. Representatives for Hillhouse, Baring, DCP Capital, KKR and Yum China declined to comment.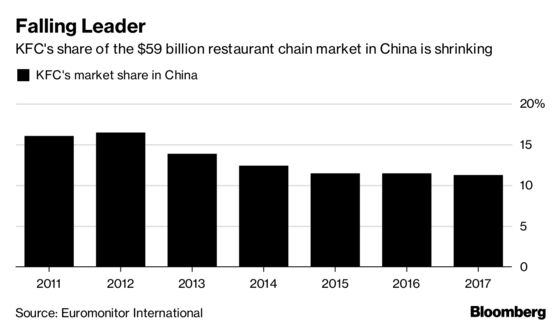 A potential takeover comes as China's biggest fast-food operator is struggling to attract younger Chinese diners to restaurants in the face of increasing local competition and changing eating habits that favor healthier fare. The escalating trade war is also fueling speculation China could turn to consumer boycotts as part of its pushback against U.S. President Donald Trump's tariffs. Yum was the target of anti-U.S. protests just two years ago.
Yum China shares had fallen 14 percent this year before Tuesday. The stock closed 4 percent higher at $35.58 in New York trading Tuesday after rising as much as 7.5 percent.
Yum China operates the country's biggest network of fast-food restaurants, with about 8,200 outlets spread across more than 1,200 cities at the end of June, according to its latest results. Yum China's same-store sales fell 1 percent in the most recent quarter, even as the company overhauled its mobile app, upgraded its menu and enlisted celebrities to tout the brand.
Still, the market growth for the $59 billion restaurant-chain market is huge with fairly low market share bases for most operators. Yum's KFC commanded the biggest market share with 11 percent in 2017, with McDonald's a distant second with 5.3 percent.
"International brands were slower in launching new formats to sell products, such as food delivery and mobile payment," said Daiwa Capital Markets Hong Kong Ltd. analyst Anson Chan. "But they are catching up right now. International brands, and domestic brands, both have opportunities to expand, as long as they can catch up with trends in this changing market."
Yum China has said its large scale is a factor holding back growth. Still, it's not backing off its expansion plan and is targeting 20,000 stores long-term.
"It's the right thing to do, given our leadership in the market, and our ambition to maintain the leadership and market share in the long run," Chief Executive Officer Joey Wat said on a call with analysts earlier this month. "The China market is still a growing market. It still has a lot of opportunities."
Yum China was spun off from Yum! Brands after the U.S.-based company faced pressure from an activist investor. Yum Brands shares climbed 0.9 percent to $83.09 on Tuesday in New York.
Private equity firm Primavera Capital, which owned 4.3 percent of Yum China as of June, has been weighing options for its stake in the company and could consider joining a bidding group, according to the people.
No final decisions have been made, and the makeup of the bidding group could still change, the people said. There's no certainty the deliberations will lead to a transaction, they said.
DCP Capital was started last year by buyout veterans including David Liu, the former China head and co-head of Asia private equity at KKR. In May, it agreed to invest in Venus Medtech, a Hangzhou-based developer of heart valve replacements that's backed by Goldman Sachs Group Inc.