China Growth Momentum Stalls as Debt Campaign and Trade War Bite
(Bloomberg) -- China's economy hit a mid-year rough patch as efforts to curb risky lending and excessive debt collided with a deepening trade war, adding to concerns about global growth.
Fixed-asset investment in the world's largest developing economy rose at the slowest pace in two decades in the first seven months of this year, while infrastructure spending slumped to a quarter of the pace of a year earlier. Factory output, retail sales and credit creation in July all trailed estimates.
China's economy is now losing momentum just as it braces for a protracted trade conflict with the U.S., and those pressures show no sign of dissipating. Officials have vowed to boost lending to smaller companies and support for infrastructure investment, but the pressure is mounting on them to do more.
"The Chinese economy will get worse before getting better," said Lu Ting, chief China economist at Nomura International Ltd. in Hong Kong. "It takes several months to turn around. Beijing will step up credit easing and fiscal measures to deliver a recovery and prevent financial troubles such as a rise of bond defaults."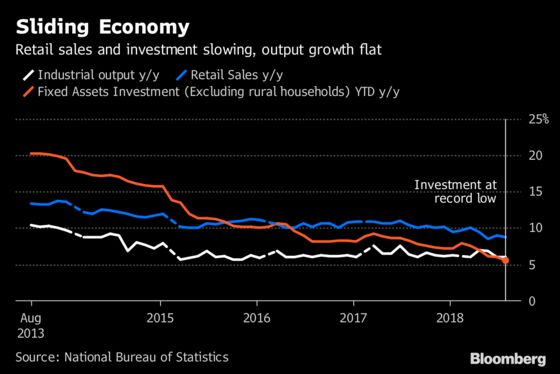 Markets reacted to the data calmly, with the onshore yuan little changed as of 4:00 p.m. in Beijing on Tuesday, after tumbling about 8 percent over the last three months, making it Asia's worst performer. The benchmark Shanghai Composite index of stocks ended the day down 0.2 percent.
"The economy is slowing down as the result of the relatively tight policies in the past six quarters," said Gene Ma, chief China economist at the Institute of International Finance in Washington, who expects fiscal policy to be more supportive in the second half of 2018. "Tighter policies on shadow credit inevitably hurt small and private businesses. Rising trade tension started to hurt confidence, but not yet the real growth as exporters moved up their exports."
Industrial output rose 6 percent in July from a year ago, the same as in June.
Retail sales expanded 8.8 percent from a year earlier, slower than the previous month.
Fixed-asset investment rose 5.5 percent on year in the first seven months, a record-low pace in data dating to 1999.
The three indicators were slower than forecast in a Bloomberg survey.
Surveyed jobless rate in urban areas rose to 5.1 percent from 4.8 percent in June.
What our economists say...
"The overall weaknesses in the economy is palpable" and that's likely to "prompt the authorities to further lower reserve requirements and facilitate lending by unclogging lending channels."

-- Chang Shu and Fielding Chen, Bloomberg Economics
Private investment was still strong, rising 8.8 percent from a year earlier, the fastest pace since March. That compares with spending by state-owned enterprises, which rose by the slowest pace since data was first available in 2004. The trend looks set to continue, with the government increasing its monitoring of state firms as part of its continuing efforts to slow the increase in debt.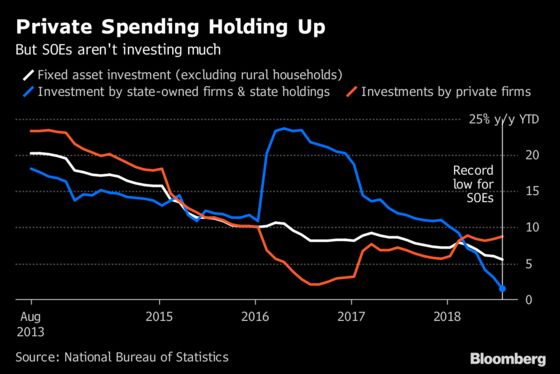 Infrastructure investment in the first seven months rose 5.7 percent, the lowest since at least 2014 and about a quarter of the pace in the same period last year. Property development investment grew 10.2 percent over the seven months.
"There was too much tightening" in the first half, as well as policy errors that ought to be corrected, Liang Hong, chief economist at China International Capital Corporation Ltd. in Beijing, said in an interview with Bloomberg TV. "Some of the policy adjustments just happened in July, so people are expecting in the third quarter we should see more stabilization."