China Everbright Shares Dive After $1.3 Billion Rights Issue
(Bloomberg) -- China Everbright International Ltd. plunged the most in almost a decade after announcing plans to raise about HK$9.96 billion ($1.3 billion) from a rights issue for its waste-to-energy projects, business expansion and the repayment of bank loans.
The company plans to issue 1.66 billion rights shares on the basis of 10 shares for every 27 existing shares, it said in a statement to the Hong Kong stock exchange Tuesday. The subscription price is HK$6 per rights share, a discount of about 31 percent to its closing price Monday of HK$8.75, according to the statement.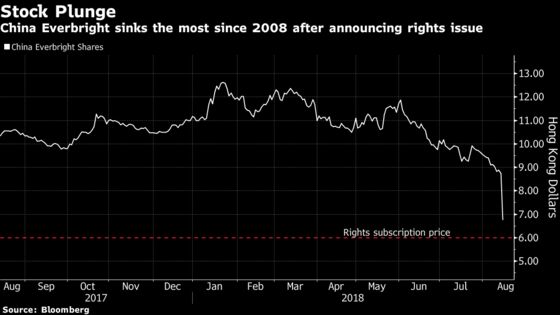 The rights issue will help lower Everbright's debt level and give it the option to pursue debt financing in the future, Chief Financial Officer Raymond Wong told reporters during a briefing Tuesday. The plan isn't being undertaken because Everbright has insufficient cash, he said, adding the company has more than 20 billion yuan ($2.9 billion) in cash and bank credit lines.
Shares tumbled 21 percent to close at HK$6.90, the biggest loss since October 2008, paring an earlier slump of as much as 26 percent. The shares have lost about 38 percent this year.
The company doesn't see a need to raise more funds anytime soon, Chief Executive Officer Wang Tianyi said at the same briefing. The company intends to use 60 percent of the proceeds for waste-to-energy projects, 25 percent for other businesses including research and development, waste sorting and atmospheric monitoring, and 15 percent for loan repayments and to reduce financial costs.
The company has invested extensively in environmental projects, building and operating waste-to-energy plants including trash burning across 21 regions in China. It also has businesses in Germany and Poland. Profit climbed 23 percent to HK$2.2 billion in the first half of the year, the company said in a separate filing to the Hong Kong stock exchange on Tuesday.
The rights issue is "a surprise, given they should have sufficient cash and bank facility," Dennis Ip, an analyst at Daiwa Capital Markets Hong Kong Ltd., said after the announcement and before the media briefing. The company seems to have already prepared enough cash for its HK$10 billion to HK$13 billion capital spending this year, Ip said.
The rights issue will "strengthen the group's capital base and enhance its financial position without increasing finance costs," Everbright said in its statement. It also gives "shareholders the opportunity to participate in the growth of the group through the rights issue at a price lower than the current market price."