China Churns Out Most Steel Ever as Prices Hit Six-Year High
(Bloomberg) -- China, supplier of more than half the world's steel, produced a record amount in July as mills boost runs to benefit from healthy margins amid a boom in prices to the highest level in six years.
Output of crude steel climbed 7.2 percent on year to 81.24 million metric tons, according to data from the National Bureau of Statistics on Tuesday. The daily rate was 2.62 million tons versus an all-time high of 2.673 million tons in June. Production rose 6.3 percent to 532.9 million tons in the first seven months. Aluminum output virtually matched an all-time high.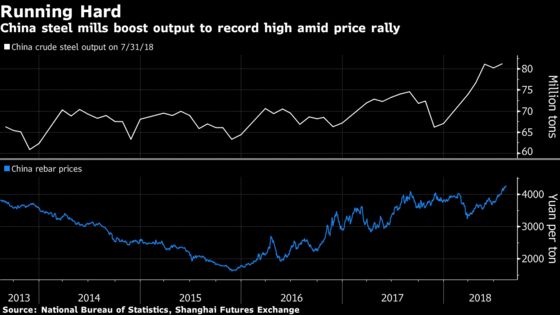 China's steel mills are smashing output records by pushing furnaces beyond typical limits, offsetting closures, according to Goldman Sachs Group Inc. Margins are high as prices rise and policy makers vow to boost infrastructure investment, brightening prospects for demand, just as inventories slide.
While China has trumpeted reforms in the past two years that have shuttered aging and illegal plants, and curbed winter output in the most polluted cities, official data shows output rising. That's partly because mills are using iron-rich ores to boost productivity, and raising the portion of steel scrap in their feed-stock, according to Goldman's Hong Kong-based analyst Trina Chen.
At the same time, producers are facing increased risks from an intensifying trade war between the U.S. and China and a potential economic slowdown. Exports shrank 14 percent to 41.3 million tons in the first seven months of the year, according to customs data last week.
Output of primary aluminum jumped 12 percent on year to 2.93 million tons in July, almost matching the record level in June 2017, bureau data show. Production in the first seven months increased 3 percent to 19.4 million tons.
Aluminum exports last month rose to the highest level in more than three years following a spike in global prices as U.S. sanctions on United Co. Rusal cut supplies, customs data show.
Output may ease from now on as mills curb runs after environmental checks tightened bauxite supply and boosted alumina prices.