`Overreaction' Seen in Japanese Stocks as Turkey Sinks Topix
(Bloomberg) -- More than 3 percent in just two days.
So went the loss in Japan's benchmark stock gauge as troubles in Turkey sent the measure to its biggest two-day drop since March. The Topix index fell 7.4 percent in 2018 through Monday for the worst performance among developed equity markets tracked by Bloomberg. The measure rose 0.8 percent in early trading Tuesday in Tokyo.
Sure, on one level, the selloff is easy to explain. As emerging-market currencies were offloaded with the lira, the yen strengthened as a haven, weighing on the profit outlook for Japanese exporters. Banks, meanwhile, were dumped on fears of exposure to Turkey.
But Japanese stock investors are questioning if the rout has gone too far.
"I do feel there's a bit of an overreaction," said Hiroshi Matsumoto, head of Japan investment at Pictet Asset Management Ltd., who holds a positive view on Japanese equities. "I don't think it will have a direct impact on Japan. But we need more information on how much European banks are exposed to Turkey. Without knowing that, investing in the current circumstances is a bit like gambling."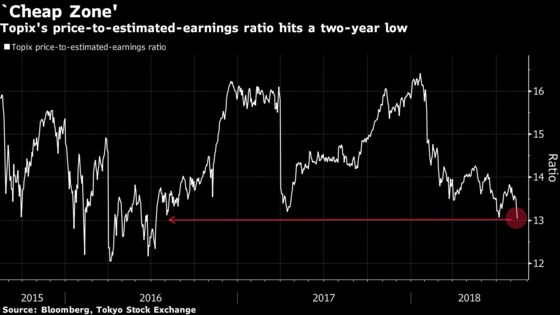 Kiyoshi Ishigane, chief strategist at Mitsubishi UFJ Kokusai Asset Management Co. in Tokyo, echoed that sentiment. While he sees little reason for such a big decline given Turkey has few economic ties to Japan, he says it will be hard for stocks to go higher for now. For these reasons, Ishigane says he holds a "slightly positive" view on Japanese equities.
"We're clearly in the cheap zone," Ishigane said. "But it's hard for prices to rise as people are waiting to sell."
The Topix traded at 13 times estimated earnings at Monday's close, the lowest level since July 2016. The S&P 500 Index in the U.S. was valued at 17.6 times expected profits.
"We're seeing what I'd describe as a light panic," Ishigane said. "It's because the Turkey news broke on top of a market sentiment that'd been jittery over the ongoing trade friction between the U.S. and China."
Bank shares retreated on Monday, with Mitsubishi UFJ Financial Group Inc., the nation's largest lender, dropping as much as 3.4 percent before trimming losses. But Japanese lenders only have about $11 billion in loans to Turkey, according to Bank for International Settlements figures at the end of March. MUFG rose 0.3 percent in morning trading Tuesday.
"Japan's bank exposure to Turkey is too low to be a point of major concern, although a run on EM debt will have some impact on their P&L," said Amir Anvarzadeh, a senior strategist at Asymmetric Advisors Pte in Singapore. He recommended investors remain overweight financial stocks, particularly Japan's top lenders.