China's Yuan Slump Almost Over, Says StanChart Veteran
(Bloomberg) -- The worst of the plunge in China's yuan should be behind us.
That's the view of Charles Feng, head of macro trading for Greater China at Standard Chartered Plc., even as drama in Turkey rattles markets worldwide. Factors pressuring the yuan -- such as trade tension and easing China monetary policy -- are almost priced in, while there's limited room for the dollar to rise further, he said. Investors could also start seeing a bottom for mainland stocks, which are down more than 20 percent from this year's peak.
Hong Kong-based Feng, who oversees foreign-exchange, rates and local-currency corporate bond trading, said there's a "good chance" of a retracement in the yuan that could be as rapid as the recent declines, if the dollar weakens. China isn't likely to intervene heavily provided the moves are in line with economic fundamentals or the overall dollar direction, he said.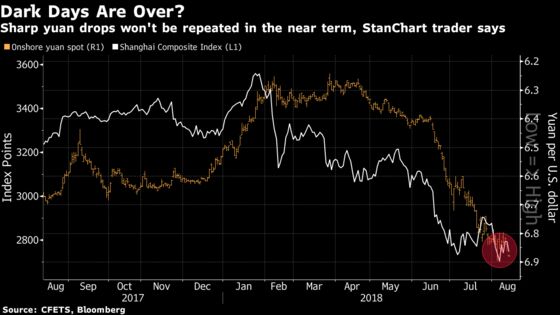 The yuan is Asia's worst performing currency over the past three months, sliding around 8 percent against the dollar as trade friction with the U.S. heated up and the People's Bank of China took easing steps to support the economy. Policy makers have made it more expensive to short the yuan and urged banks to avoid "herd behavior" in the currency market. While a weaker yuan could help exporters better cope with U.S. tariff hikes, it also risks denting foreign interest in onshore assets.
The best China trade in the short-term is risk-free bonds, as liquidity is flush and concern lingers over credit default risks, said Feng, who has been a trader for more than a decade.
"There's huge room for foreign ownership of Chinese bonds and stocks to go up," he said. "We already see some investors who never touched that market in the past now trading in very big size."
The yuan rose 0.08 percent to 6.8844 per dollar Tuesday, while the offshore rate added 0.14 percent. China's government bonds advanced for the first time in seven sessions, pushing the 10-year yield down three basis points to 3.56 percent.
Here is a summary of Feng's views:
The selloff of emerging-market assets, triggered by concern over Turkey, will have some contagion effect on the yuan; Chinese officials won't be too concerned as long as the weakness is consistent with drops in other currencies
Offshore clients favor conservative option structures that have limited downside, which is very different from 2015; strike prices of the options are more "realistic"
Onshore customers care about the possibility of significant outflows, which haven't transpired so far
The yuan's recent decline is driven by worsening sentiment, divergence in China-U.S. monetary policy, slower Chinese growth and seasonal factors, such as firms' overseas dividend payments
Less regulatory intervention is a positive. "If the market is left on its own, then nobody knows where the top or where the bottom is, and as a result, there won't be massive positioning either way"
Imposition of reserve requirements on banks' foreign-exchange forwards purchases will have limited impact on corporate hedging costs

"It is more of a message from the PBOC to the market that they are watching and they hope there's no herd mentality, rather than making a very big change to the cost for corporates," Feng said. "The move is preemptive"
Onshore yuan's swap points could drop because dollar liquidity will tighten a little as banks put down reserves for forwards trading

Inflows into Chinese debt will be "very, very big" as global indices will include the country's bonds "sooner or later"; foreign ownership will rise to 5 percent in five years from about 2 percent now