Turkey ETF Sees Cash Inflows Surge as Short Sellers Smell Blood
(Bloomberg) -- The largest exchange-traded fund tracking Turkish equities has lured in heaps of cash lately. But don't take that for a bullish signal.
Inflows to the iShares MSCI Turkey ETF, or TUR, likely indicate so-called create-to-lend activity in which new shares are created for traders to borrow and sell short, according to Josh Lukeman, the head of ETF market making for the Americas at Credit Suisse Group AG. The fund took in more than $53 million Friday, the most in over five years, after President Donald Trump said the U.S. will double tariffs on Turkey's steel and aluminum.
The increasing tensions between the U.S. and Turkey and little confidence President Recep Tayyip Erdogan's government is well positioned to stem the market carnage helped send the lira down 14 percent on Friday and punished stocks as well, a rout that's extended into Monday and pushed an index tracking emerging-market currencies to a new 2018 low.
"The Street has seen an uptick in borrowing demand," Lukeman said. He said the relatively low number of shares outstanding -- just 14 million -- meant more had to be created to accommodate traders seeking to take bearish positions.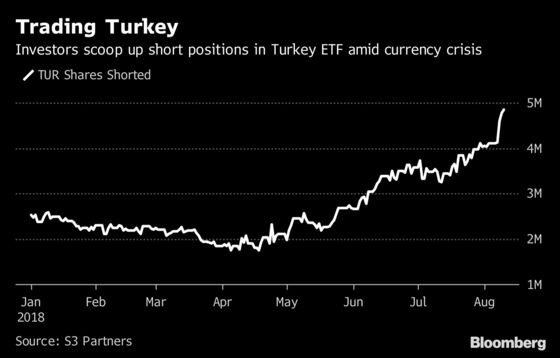 The number of TUR shares shorted has soared this month to 4.85 million, the highest in at least a year, according to data from S3 Partners. The ETF also recorded record trading volume and the biggest plunge since 2008 on Friday.
TUR dropped 11 percent Monday as of 2:01 p.m. in New York, extending Friday's 15 percent dive.