These Are the Five European Banks in Focus on Lira: Street Wrap
(Bloomberg) -- European banks drop for a second day, particularly those with exposure to Turkey, as the lira slumps for a fourth day to a record low. Analysts see four to five banks most exposed and expect capital ratio pressure and negative P&L translation from bond portfolios and FX effects. No impact on funding yet, though liquidity constraints and debt haircuts could ensue if the situation worsens.
The Stoxx 600 Banks Index is trading lower Monday, extending Friday's 1.9% drop, heading for a fourth day of declines.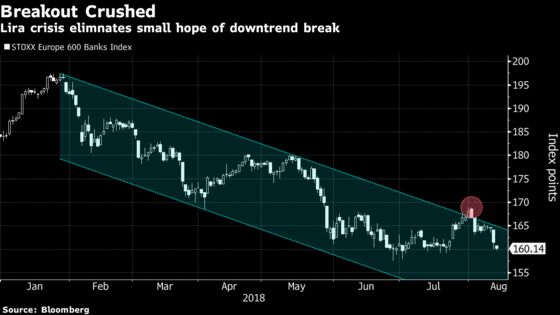 Morgan Stanley, analysts including Bruce Hamilton
BBVA most exposed with about 13% of total loan book; 4% at UniCredit and 2% each at ING and BNP
Equity exposure of group CET1 ranges from 11% at BBVA to 6% at UniCredit and 2% at ING and BNP
Estimates limited disruption in wholesale funding, based on balance sheet structure
Sentiment may lead to negative read across to other emerging markets, risk assets may hinder short-term recovery
Deutsche Bank, analysts including Flora Benhakoun
Don't expect systemic implications from lira crisis and believe the impact should be broadly manageable for European banks
See five European banks (BBVA, UniCredit, ING, BNP, and HSBC) with a notable presence or exposure to Turkey:

BBVA, via Garanti (50% ownership); UCG, via Yapi Kredi (~40% ownership); ING, via wholly owned subsidiary; BNPP, via TEB (72% ownership); HSBC, via wholly owned subsidiary

Depending on how the situation proceeds, there may be "significant" capital and earnings implications
Spanish, French and Italian Banks most linked to Turkey
European banks' Turkey exposure is 1% of group based on the latest EBA data
For the four most exposed banks, it is 4% of the total: BBVA is most exposed
Share price performance discounts high probabilities of banks walking away from Turkey; sees ~40% probability for BBVA, close to 50% for ING
UBS, analysts including Ignacio Cerezo
Sees reduced earnings contribution from Turkey as already priced-in at BBVA and UniCredit
Expects no re-rating for these two stocks until greater clarity around local policy response is available
In a more negative scenario, may see liquidity constraints (~75% of liabilities are <1yr duration), book value impairments, debt haircuts or hyperinflation accounting