European Stocks Drop as BBVA to UniCredit Extend Turkey Rout
(Bloomberg) -- European equities extended last week's retreat as banking shares tumbled amid concerns about the Turkish economic crisis affecting liabilities of the region's lenders.
The Stoxx Europe 600 Index dropped 0.4 percent after losing 1.1 percent on Friday. BBVA was down 2.6 percent and UniCredit down 2.3 percent. Bayer slumped 9 percent after Monsanto, the U.S. agrochemical giant it acquired, was socked with $289 million in damages in the first trial over claims that its Roundup weed killer causes cancer.
The turmoil in Turkish markets continued as President Recep Tayyip Erdogan showed no signs of backing down in a standoff with the U.S. administration, with the lira's decline spurring concern about European lenders' exposure to the nation. According to Deutsche Bank AG, the five European banks with a significant presence or relationship with Turkey are BBVA, Unicredit, ING, BNP Paribas and HSBC.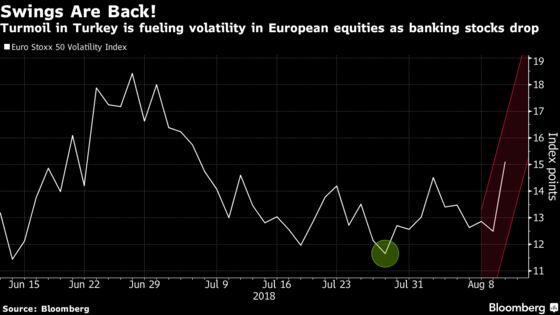 "Turkey's problems are quite idiosyncratic and should be relatively well-contained outside of the obvious short-term risk-off unless there's a major investor retrenchment from EM generally," Deutsche Bank strategist Jim Reid said in a note. "However, the situation may be emblematic of potential risks going forward as major central banks withdraw their extraordinary policy accommodation of recent years. Financial crises are always likely to happen somewhere in a Fed tightening cycle, especially when a lot of money chased high yielding assets in the easing stage of the cycle."