Even as Yuan Slides, China Stocks Resist Emerging Market Selloff
(Bloomberg) -- Chinese stocks were spared the worst in a selloff that's sent emerging market assets tumbling across the world.
While the Shanghai Composite Index fell 0.3 percent Monday, it clawed back losses of as much as 1.9 percent as investors bought tech in afternoon trading. The yuan slid 0.5 percent to 6.8763 per dollar after China's central bank weakened its daily fixing to the lowest level since May 2017, while a former governor said China should avoid going back and forth on yuan policies. Hong Kong's Hang Seng Index lost 1.5 percent.
A spiraling currency crisis in Turkey has worsened sentiment for developing markets. In China, traders were already grappling with the wildest equity swings since 2016 as investors considered whether support measures from authorities would be enough to offset risks to economic growth. The People's Bank of China indicated late Friday that while it's conducting easier monetary policy than three months ago, it won't use any "strong" economic stimulus.
"Markets overreacted earlier today to the Turkey crisis," said Wang Chen, Shanghai-based partner with XuFunds Investment Management Co., adding that China's tight capital controls helped shield it from the risk of capital outflows. "China is more resilient than smaller emerging-market countries."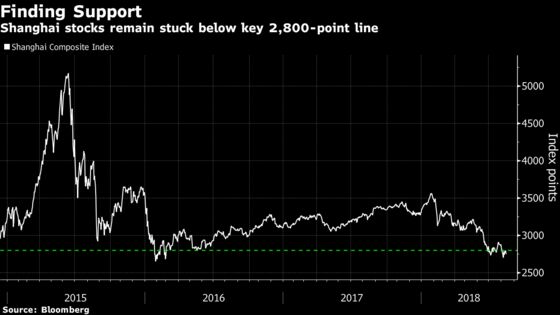 A gauge of mainland-listed financial stocks lost 1.3 percent, tracking losses in Europe and the U.S. as traders fled risk. China Merchants Bank Co. and China Construction Bank Corp. were among the biggest decliners.
Bank of East Asia Ltd. slid 5.8 percent in Hong Kong, the biggest drop since July 2015, while China Merchants Port Holdings Co. fell 4 percent after Hang Seng Indexes Co. said it will remove the stocks from the benchmark Hang Seng Index next month.
Sino Biopharmaceutical Ltd. and Shenzhou International Group Holdings Ltd., which will be added to the Hang Seng gauge, rose at least 2 percent.
China Maple Leaf Educational Systems Ltd. and China Yuhua Education Corp. dropped more than 30 percent, leading education shares lower after China's Ministry of Justice proposed changing rules governing the sector. A newly-added clause to a draft posted Aug. 10 would ban companies from controlling non-profit private schools through mergers and acquisitions. Recently-listed Hope Education Group Co. and Bojun Education Co. also slumped.
Foreign investors have been snapping up yuan-denominated shares despite the losses and volatility in mainland markets. MSCI Inc. will announce details on the second step of A-share inclusion before Tuesday's market open, with all changes effective Sept. 3. Onshore shares' inclusion factor will double to 5 percent.