Currency Markets Are 'Hidden Thorns' for Stocks in Full Bloom
(Bloomberg) -- Currency markets are sounding alarms that U.S. stocks seem hellbent on ignoring.
As Turkey's lira crisis batters emerging-market currencies while trade tensions intensify and the yuan continues to weaken, a JPMorgan Chase & Co. index of exchange-rate volatility just experienced its biggest surge since 2016's Brexit vote. The gauge now sits at its highest since February.
U.S. stocks, by contrast, remain relatively calm, as the S&P 500 eyes its January record. While the Cboe Volatility Index has risen over the past two full sessions, it's down today, pushing the spread between the two indexes to the widest in over a year.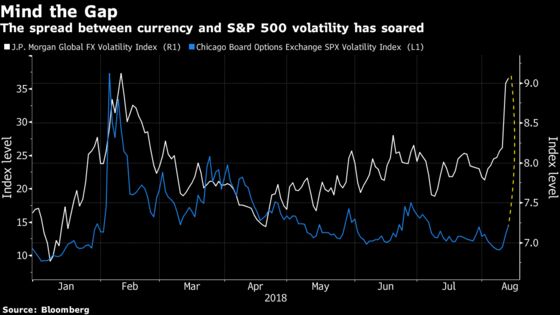 The divergence may prove unsustainable.
"While U.S. equity markets are the roses, currency markets are the hidden thorns," Cantor Fitzgerald market strategist Peter Cecchini wrote in a note. "Once the bloom is off the rose, the thorns may be all that remain."
The unrest in Turkey is the latest hurricane to blow through volatility markets this year, which have been whipped around by protectionism, monetary tightening and fissures in the synchronized growth story. Add whipsawing developing-nation assets and the stronger dollar to the list of stresses.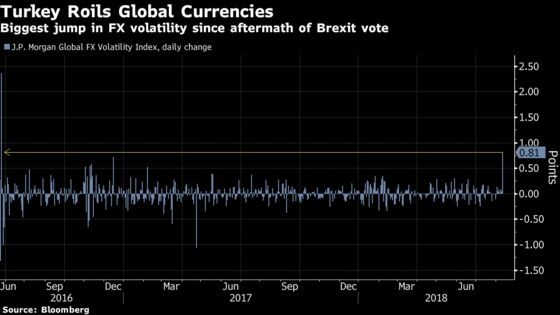 The U.S. stock market of late, by contrast, has been dancing to its own tune, cheered by a seemingly impregnable U.S. earnings fortress and signs the global trade war isn't derailing Corporate America's trajectory. Before an increase in the second half, the VIX last week drifted to its lowest since January -- too low for some strategists.
"Overall, we feel that U.S. index volatility is now far too low versus the global risks to growth currently manifesting in currency implieds," Cecchini wrote.
A retracement could be on the cards, the strategist added. The last time equity volatility cheapened this rapidly versus currency volatility was in early 2016, right before a VIX spike. For such a scenario, he recommends a risk-reversal options trade on VIX futures.
Other analysts agree it's inevitable that currency volatility will awaken stocks from their slumber.
"History tells us that when currency crises take place and volatility picks up in the currency markets in a big way it's only a matter of time before it spills over into the U.S. stock market," Matt Maley, equity strategist at Miller Tabak + Co., wrote in a note.