Trump-Country Democrat Clings to Seat Crucial to Senate Control
(Bloomberg) -- Across vast acres of lush emerald-green prairie, a hundred towering white turbines whirl in the breeze in Courtenay, North Dakota. It's Trump country, and Democratic Senator Heidi Heitkamp is there to claim it as hers, too.
Heitkamp, one of the most vulnerable Democrats in this year's election, was in the hamlet of about 45 people last week to accept an award from a wind-energy group and promote her support for extending a wind-energy tax credit that sparked development of the local turbines.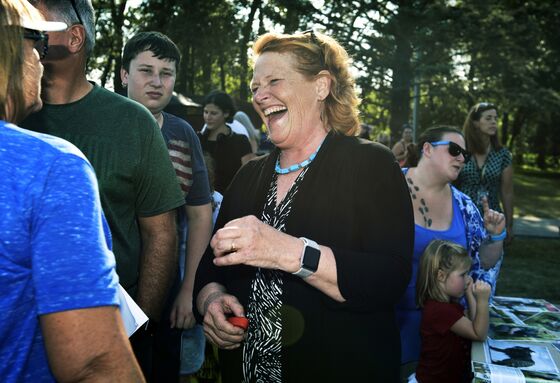 "We're on the march in North Dakota as an energy leader, and I am proud of the role I've played in that," she told the crowd of about 60 people who gathered outside a new community center being built with funds related to the wind-energy project.
The North Dakota contest, in which Heitkamp faces Republican Representative Kevin Cramer, has become a hot spot in in an increasingly close battle over control of the Senate, where the GOP now has a slender two-vote majority.
The Democrat-held seats most at risk are in states President Donald Trump won by double digits in 2016 -- Indiana, Missouri, West Virginia and Heitkamp's in North Dakota -- as well as Florida. Republicans, meanwhile, are on the defensive in Tennessee, Nevada and Arizona.
In Courtenay, Heitkamp's pitch that she's fighting to aid North Dakota's agriculture and energy industries has appeal. Some of the farmers in the area are leasing land to produce wind power for Xcel Energy Inc., added income that helps offset lower prices for soybeans, corn and other crops that are dropping in recent years -- and could plunge further as Trump's trade war with China threatens to worsen.
"She votes for North Dakota, plain and simple," said Lee Dick, a Courtenay farmer and self-described independent voter who has two turbines on his property. Dick said he hasn't bothered to vote in recent elections but says he will back Heitkamp this fall.
With a population of less than 800,000, roughly the same as a House district in a big city, politics in North Dakota is personal. Cramer, who was once North Dakota GOP party chairman and a public service commissioner before becoming the sole representative in the U.S. House, has built relationships across the state. That's even more the case for Heitkamp, a former two-term state attorney general with a distinctive blaze of red hair and a knack for working a crowd with a whirlwind of hugs and selfies.
"This is a race that will probably come down to 150,000 voters," Heitkamp said in an interview. "For me, it's just a matter of getting out and about."
There has been little public polling in the race, but a June Mason-Dixon poll found Cramer had a small advantage -- 48 percent to Heitkamp's 44 percent, results that were within the margin of error. Eight percent said they were undecided.
"Right now Heidi Heitkamp is going to have a difficult election," said Nick Bauroth, an associate professor of political science at North Dakota State University in Fargo. "It's not impossible for her to win, but to put together even a skin-of-the-teeth victory would be quite an accomplishment."
Then there's the Trump factor. The president remains popular in North Dakota and his agenda is particularly friendly to the state's resources-intense industries. Cramer argues a bigger GOP majority can advance that agenda and that voters in the Roughrider State aren't fazed by the controversies surrounding president.
"As long as Donald Trump continues to roll back regulations and talks about cutting taxes and national security and border security, North Dakotans will like it," Cramer said.
Heitkamp won the Senate seat 2012 narrowly, with 50.2 percent of ballots cast, by getting voters to split their tickets. That same year GOP presidential nominee Mitt Romney beat President Barack Obama in North Dakota by nearly 20 percentage points. Cramer was elected to the state-wide House district with 55 percent of the vote.
Such vote splits once were common in North Dakota. While the state has backed the Republican presidential nominee in every election but one since 1948, voters regularly sent Democrats to Congress. That began to shift with the 2010 election when the Tea Party movement helped sweep Republicans into control of the House and Senate. Now Heitkamp is the only statewide-elected Democrat.
Heitkamp has worked to build a brand as a pragmatic lawmaker who works with Republicans. She worked on this year's farm bill as a member of the Senate Agriculture Committee, and with Republicans she helped craft bipartisan legislation cutting Dodd-Frank rules on community and regional banks. She favors an "all of the above" energy policy that includes coal. She was the only Senate Democrat to co-sponsor 2015 legislation to lift a ban on U.S. crude oil exports, which also propelled the wind energy tax credit extension into law.
Trump interviewed Heitkamp after his election to be agriculture secretary and she has voted with him more often than any other Democratic senator, with the exception of West Virginia's Joe Manchin, according to data compiled by the political website fivethirtyeight.com. She has backed a number of Trump's nominees, including Supreme Court Justice Neil Gorsuch and Secretary of State Mike Pompeo. She says she's still considering whether to vote to confirm Trump's second high-court nominee, Brett Kavanaugh.
Heitkamp got an unexpected boost last month, when Cramer's unwillingness to take Trump on over trade cost him the endorsement of the political network led by billionaire Charles Koch. Earlier, the Koch network's Americans for Prosperity ran a digital ad thanking Heitkamp for co-sponsoring a measure that eased banking rules on regional and community banks.
"I'm too independent for them," Cramer said of the Koch network. "We'll both have enough money to win, and one of us won't."
Heitkamp raised $1.9 million during the second quarter of the year and started July with $5.2 million in her campaign account, according to campaign disclosures. Cramer raised $1.4 million and ended the quarter with $2.4 million left to spend.
Trump campaigned in North Dakota for Cramer in June, shortly after the GOP representative complained that the president was too friendly toward Heitkamp. Trump railed against Heitkamp's no vote on last year's GOP tax-cut bill, called her a "liberal Democrat" and highlighted her potential role in helping Democrats seize control of the Senate.
Heitkamp is seldom critical of Trump, though she is on trade, a potential wild card in the election. She has raised concerns about Trump's escalating tariffs on Chinese goods and on allies like the European Union, Mexico and Canada. Last week, she huddled with potato farmers complaining about unfair pricing by Canadian farmers and who have concerns about North American Free Trade Agreement negotiations.
China's tariffs are the toughest issue for North Dakota's farmers, and soybean growers have been hardest hit as prices are down about $2 a bushel this year, said Mark Watne, president of the North Dakota Farmers Union. Commodity prices move together, meaning farmers of corn, wheat and other crops will be affected, he said.
Farm income in the state is down 30 percent over the last four years, and could drop another 20 percent this year alone. The pocket-book hit of Trump's trade policies have potential to help Heitkamp, Watne said.
"It helps her in the sense that she's seen as someone who could bring balance," Watne said.
Heitkamp's potential role in party control of the Senate is an issue with some voters. Kristen Schwandt, a 33-year-old Republican and Trump supporter who lives in Moorhead, said Heitkamp is "too liberal," voting too often with Democrats on taxes and other issues.
Heitkamp's supporters said they appreciate the practical approach she takes. Archie Ziegler, 75, a Dickinson, North Dakota, resident who is retired from a job as a United Parcel Service driver, said Heitkamp is working with other Democratic senators to shore up a troubled Teamsters pension system he relies on.
He said he's a Republican who voted for Trump in 2016 but backed Heitkamp in 2012 and will do so again.
"She's working, fighting to keep us from getting a big cut in our pension plan," Ziegler said.