Deutsche Quants Go Long U.S. Banks on ETF Misprice, Higher Rates
(Bloomberg) -- Investors should bet on U.S. financial stocks outperforming emerging-market equities if they see American interest rates climbing, according to a quantitative strategist at Deutsche Bank AG.
To do so, Kunal Thakkar recommends using the "relative mispricing" of the Financial Select Sector SPDR Fund which has underperformed his quantitative model's predictions by 10 to 15 percent since the January market peak. Conversely, he noted the S&P 500 Index and MSCI World Index have both been in line with his statistical estimates.
He recommends investors take a long position in the XLF and a short position in the iShares MSCI Emerging Markets ETF to exploit this, if they agree with Deutsche Bank's view that the yield on 10-year U.S. Treasuries will rise to 3.5 percent by the end of the year.
"The trade expresses our core rates view, higher rates due to fundamentals and central bank stances, in the equity space," he wrote in a note to clients this week. "Further, the trade exploits a relative mispricing of macro factors by the two ETFs."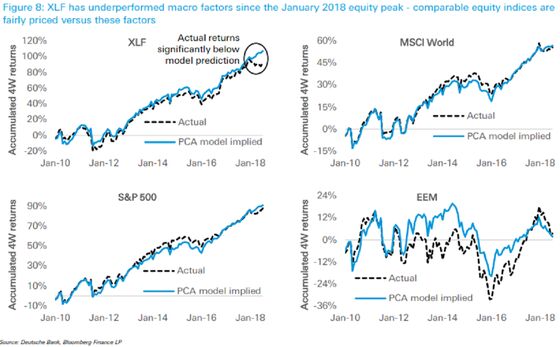 Thakkar said his model used Principal Component Analysis, a statistical technique, to examine the price sensitivities of assets to factors such as risk appetite, dollar strength and interest-rate risk.
The financials ETF has fallen 6.2 percent since the S&P 500 Index peaked on Jan. 26, more than the 0.7 percent decline of the U.S. benchmark. The emerging-markets ETF has fallen 15 percent over the same period.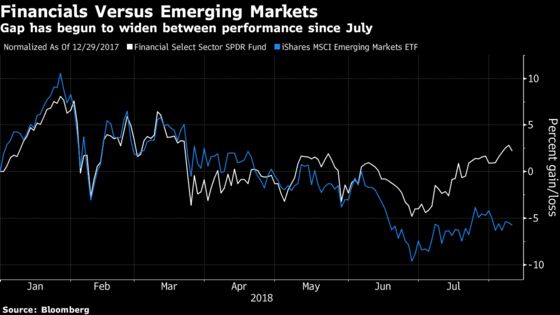 Should U.S. rates rise, Thakkar expects the XLF to climb about 5 percent, compared with a largely unchanged move in the EEM fund.