'The Dude' Is Back With a $100 Million Bet on Turkish Stocks
(Bloomberg) -- A single brokerage in Istanbul has been placing outsize bets on Turkish stocks at a time when less adventurous investors are bracing for a crisis.
Yatirim Finansman was a net buyer of 565 million liras ($105 million) in equities this week, by far the largest bet on the market in either direction and almost tripling the second-most active buyer, according to data compiled by Bloomberg. That's helped to make the equity gauge a major outlier, up by 3 percent even as the lira plunged by about 6 percent to record lows and bond yields surged to all-time highs.
The trades come as the U.S. started imposing sanctions on Turkey over the case of American pastor Andrew Brunson, who's been jailed in Turkey for about two years. The prospect of successively more damaging economic sanctions should Turkey continue to hold him has sent almost every asset class in Turkey tumbling, except stocks.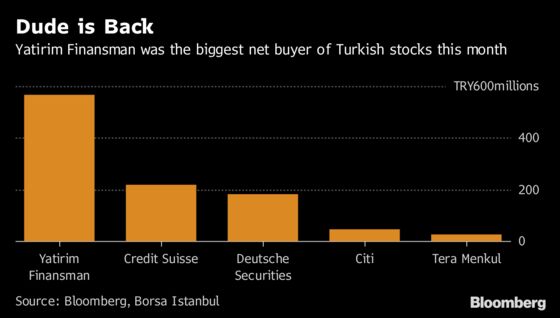 Yatirim Finansman is well known to Istanbul traders: starting in 2016, it became the talk of the town when locals noticed a series of huge bets steering the direction of the stock market, including moves right before last year's referendum. They started referring to the mystery investor or investors, whose identity has never been revealed, as "the Dude."
It's unclear whether Yatirim Finansman's flows come from an individual or a group of investors, and it's also unclear whether the source of the flows now is the same as before. Yatirim Finansman didn't immediately respond to requests for comment; it's previously declined, citing confidentiality agreements with clients.
The brokerage's former chief executive officer, Seniz Yarcan, provided some insight into the trades in 2016, telling Dunya newspaper that the abnormally large trades were "not an investor, but a big, new fund investor profile that trades with algorithms."
The largest part of the Dude's firepower this week has been directed at the nation's biggest private bank. It bought a net 96 million liras worth of shares in Turkiye Garanti Bankasi AS. That was followed by investments in petrochemicals producer Petkim, steelmaker Kardemir, defense equipment producer Aselsan and another steelmaker, Erdemir. Its biggest net sales were in Halkbank, a state-run lender facing the prospect of a fine from the U.S., and media conglomerate Dogan Holding.
Of 48 Turkish brokerages tracked by Bloomberg, 31 have been net sellers this week, according to data compiled by Bloomberg. The biggest net sales came via Is Yatirim, Yapi Kredi and Merrill Lynch. Following Yatirim Finansman on the buying side were Credit Suisse Istanbul and Deutsche Securities.
The Turkish stock exchange has welcomed the larger trades via Yatirim Finansman and its mystery investors.
"This 'dude' is buying from our market, why should we be concerned?" bourse Chairman Himmet Karadag said in an interview with Bloomberg last year. "He is doing good stuff."
After a 40 percent plunge this year, Turkish stocks are trading near a nine-year low in dollar terms. The Borsa Istanbul 100 Index is trading at a more than 40 percent discount to its peers on the MSCI Emerging Markets Index, based on price-to-estimated earnings valuations.