Chinese Tech ETF Bleeds as the U.S. Tariff Fight Brings the Pain
(Bloomberg) -- The tit-for-tat tariff dispute between the U.S. and China is taking a toll on the biggest Chinese exchange-traded fund tracking technology.
Investors have pulled $221 million from the $1.2 billion KraneShares CSI China Internet Fund, or KWEB, over the past two weeks as its share price has plummeted more than 10 percent in the last two weeks. By comparison, the $3.5 billion iShares MSCI China ETF, ticker MCHI, has lost 4.4 percent and seen $87 million of inflows over that time frame, and the $4 billion iShares China Large-Cap ETF, ticker FXI, has lost just 1.8 percent and had no outflows or inflows.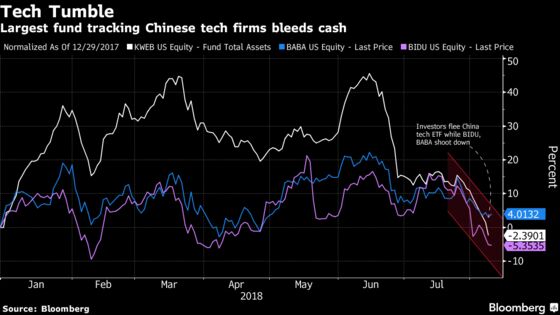 It's not hard to see why the technology fund is taking a more severe beating. It's biggest position is in Tencent Holdings Ltd., the internet behemoth that's fallen more than 7 percent, and lost $150 billion of its market value, since January. Another contributor is ZhongAn Online P&C Insurance Co., a company backed by Tencent and Alibaba Group Holding Ltd. The insurance firm surged after its initial public offering in September, but has since fallen 42 percent from its listing price.
And then there are internet giants Baidu Inc. and Alibaba. Both stocks declined on Wednesday in reaction to China's retaliatory tariff announcement, and both companies have experienced slowing growth.
"Names like Alibaba and Baidu need high growth to sustain their valuations," said Dave Lutz, head of ETFs at JonesTrading Institutional Services. "And it feels like both of them are very crowded longs by global investors."